Brad's Ball Took Flight ... Deep Into The Night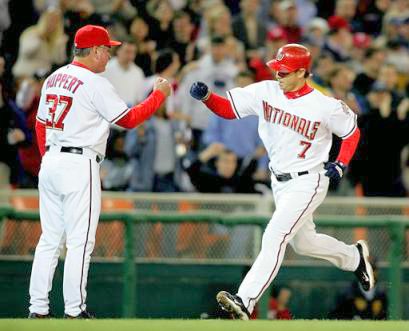 Big Bad Brad
Brad Wilkerson
hit the first homerun into the upper deck of RFK Stadium since 1971, and Nick
Johnson
chipped in with his first homer of the year as the Nationals beat the Phillies before a crowd of almost 24,000 fans.
While Wilkerson's homerun was tall ... and long ... and majestic, Johnson's was perhaps more important from the teams perspective. There was
no doubt
as to what Brad was capable of doing. Johnson, however, carries with him many "tags:"
"Unfulfilled potential"
--
"Injury Prone"
and
"Not an everyday player."
Thus far, Johnson has shown the Nats Nation that He is perhaps one of the two or three best defensive first baseman in both leagues. He has displayed his selectivity at the plate. He is hitting for an average and is consistent and not prone to slumps. But he hadn't shown
homerun power
. Listening to the Mets broadcasters over the weekend, I heard this:
"It is hoped that Nick Johnson can develop into a J.T. Snow kind of player. He's not the kind of guy who is going to get you 20 or 25 homeruns a year."
Really? How did you come by that? Jorge Posada, Johnson's former teammate in New York, said, "Nick can win a batting title if he stays healthy." If he remains healthy, and gets 500 at bats, what can he achieve? My prediction ~
.303 - 26 - 91
Brad Wilkerson is showing each night that he is no longer that .255 hitter we heard about last year. He is going to strike out a lot; I don't think that is every going to change. But the power is increasing, as is his clutch hitting. He's not going to become the next version of "Vlad the Impaler," but he will come close. What could he do in the 3-4-5 holes?
.285 - 34 - 110
The rest of the team was pretty ho-hum offensively, but after the last two nights, that's perfectly OK.
John Patterson
gave up one run over seven innings and saw his ERA
increase
to 0.98. After years of trying, first with Arizona, then Montreal and now here in DC, Patterson finally figured a way to harness his almost limitless potential. His genius on the mound has become so commonplace that it would be a story if he didn't pitch well. What a starting three in a few days:
J o h n P a t t e r s o n
L i v a n H e r n a n d e z
T o n y A r m a s J r.
Zach Day's
stuff is too good for him to remain so inconsistent. And Frank Robinson said that Ohka has a problem physically; his stuff is too good to pitch the way he has. It's just too good a pitching staff not to gel pretty soon.
The Nats have a chance to win the series tomorrow afternoon, though it will be tough. Philles pitcher
Brett Myers
has pitched in four games this year, gone into the sixth inning in each of them, and has given up only seven runs in 26 innings. Myers goes up against
Estoban Loiaza
. The good news? Until Tuesday, John Lieber was undefeated. Nick and Brad took care of that.
Go Nats.