More Senator's Memories
The 1969 MLB expansion was very exciting to me. To a 13 year old, new teams, new uniforms, and new cities were about the coolest thing imaginable. I honestly don't remember anything about any Senators - Royals games, but I remember vividly the first game against the Pilots in Seattle.
I remember the radio broadcast speaking glowingly of the distant Mt. Ranier and the beauty of the city, and the not-so-beautiful Sicks Stadium, a mostly refurbished AAA stadium used the previous year by the Seattle Raniers. The game started about 10pm D.C. time, and my bedtime was 10:30, which forced me to be very 'quiet' in the way I listened to the game. I had a small red Toshiba transistor AM radio. and found that if I put it under my pillow, I could turn up the volume enough for only me to hear the game.
By about the sixth inning or so, The Senators were ahead 9-3. It was nearly midnight, and I ultimately succumbed to sleep. Howard hit a homer, and (I think) Mike Epstein hit two. Guaranteed win. Right? Wrong.
This was in the old days of 3 tv stations and a dozen decent radio stations in the city. I tried to catch the score on WMAL, but couldn't before I left for school. It wasn't until I came home and opened the Washington Evening Star that I found out the Pilots had come all the way back and won the game 11-10. Don Mincher hit a couple of homeruns to seal the win. In those days, a loss was only a bit less fun than a win. I had a team, and that is all that mattered. Bob Short, of course, took care of that two years later.
New Nat Esteban Loaiza

Was the addition of former Yankee Esteban Loaiza a good move? It was a great move. Well, it's great if he does better than he did last year. And its great if he reverts back to the .500 pitcher he was before his great year with the White Sox in 2003. It was a tremendous move if he reverts to form and wins 20 games and keeps his ERA under 3.00.
I really believe that this rotation, if healthy, has the potential to be quite good. Each pitcher in the rotation has the capacity and ability to win 15 games. Certainly they all wont, but they could. If Loaiza has a 'typical' year for him, and the other pitchers keep their ERA's where they were last year, and if the hitters hit for their career averages, we could see an 85 win season for 2005.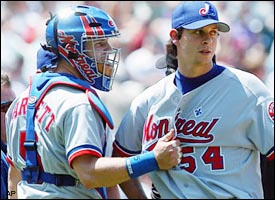 Zach Day is the key for the Nat's pitching staff for 2005. A solid season from Day could propel the Nationals to a .500 record or better
What's So Wrong With The Pitching?
I have been listening to the naysayers for several months now regarding the Nat's starting pitching for the upcoming 2005 season. Barring health issues, where's the problem? Look at the ERA averages for our starting four over the past three seasons:
Armas: 4.21
Hernandez 3.78
Day: 4.01
Ohka: 3.92
I think those are good ERA's for this hitter's era. If Armas wins 14, Hernandez 16, Day 12 and Ohka 10, the Nats have 52 wins from the starting four. For comparison:

I opened my Baseball Encylopedia to the '69 Nats, and the wins broke down this way:
Starting pitchers: 54 wins
Bullpen pitchers: 32 wins
Total wins: 86

The 2005 Nats should have 52 wins from the starters, 30 from the bullpen, for 82 wins. A .500 season, something we'd all be happy to have.

we'll see.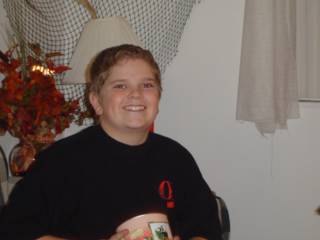 Future National Korth Rushdi. OK, granted, he is my son, but my, what a baseball player. He has been on a post-season all star team each year he has played ball. He is the best fielder in his league and a very good hitter too. What makes him special is his pitching ability. He has a good fast-ball and a killer breaking ball. More than one hitter has fallen to the ground trying to hit his 12-6 curve. Look for his name in about six or seven years.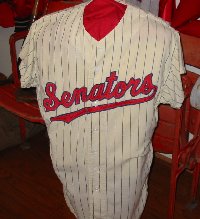 1965 Senators jersey. In 1968, the pinstripes were changed to red. By '69, the pinstripes were removed, leaving only the script 'Senators' across the front of the jersey

The More Things Change ...
One of the great things about publishing a very new blog is the fact that no one yet reads it, and I can say pretty much anything I want without offending other
baseballers.
I was checking some of the other Nat's blogs this morning, and came across a litany of things that are wrong; the logo on the hat, the uniform, the rules of the game, the length of the game, the distance between the bases ... yada yada yada. Granted, a blog is all about personal perspectives, but after 33 years, you'd think Beltway baseball fans could find a few positive things to write about.
First, the hat. To you kiddies who were not alive in 1971, memo: the hat isn't for you. It is a gift to those of us who woke up that September morning and picked up the Washington Post up off of our front porch and read those fateful words: "Senators move to Texas." It is for us that MLB brought back the old hat, a chance to again see a major leaguer wear the Senator cap before we die. Now, the jersey. I'm not sure very many people like it, but it is a TEMPORARY design, to be used only until the new owner has a chance to create a look to his/her own liking. What's worse: the Nats playing in a semi-crummy uniform in RFK or the Nats playing in Las Vegas?
After 13 consecutive championships, the Braves will no longer 'rule the roost' in the NL East. The loss of J.D. Drew, Paul Byrd, Eli and Charles Thomas, and Jaret Wright leave but a shell of a team with a payroll limit not large enough to beat back the Mets and Phillies year in and year out. A .500 team for 2005? Likely. Will the Nats have a better record than the Braves? Not likely.

NL East No Longer Home of the Braves
The Braves wont win the NL East this year. Oh, I know, we've been hearing that for a half-dozen years now. Last year was to be 'the' year -- the year that the house of Turner came crumbling down. Castilla: gone - Maddux: gone - Sheffield: gone - Lopez: gone ... and so it went throughout the winter. But this year IS the year the string of 13 consecutive championships is broken. Here is a breakdown:
1B:
Franco is 46 - no way he can have another .300 year. LaRoche tops out at.270 - 20 - 70. Good but not what the Braves need from an infield corner position..
2b:
Marcus Giles is a good fielder and should produce another 300-20-70 season
ss:
Rafael Furcal - count on outstanding range and another 30 throwing errors. I think he's topped out offensively too,

.280-12-50

w/30 stolen bases
3b:
Chipper Jones

- strange year last year, but should produce a .

300-35-100

for 2005
LF:
? Your guess is as good as mine
CF:
Andrew Jones

- His career was to have been better than Vlad's. Never happened. Seems to be slipping offensively, though his defense is still the best.

265-30-85?

Perhaps.
RF:
? Your guess is as good as mine
C:
Johnny Estrada

- Tailed off at the end of last year. Count on .

270-6-65

-- good numbers for a defensive gem
The Braves are a .500 team, which makes me very happy. After 21 years of being a stalwart Brave's fan
(I followed them because Dale Murphy was a member of my church),
it will be very easy to change my allegiance to the Nationals.
RFK during its baseball hay-day in th eearly 1960s. Sadly, those stands represent a day game and not an off day. I'd guess that the average attendance of all the Senator games I went to over the years was about 8,500. In 1969 the Nats drew 914,000 fans, a direct reponse for their 86 win season.