Down, But Not Out
Is Nick Johnson The Answer At 1st For 2006?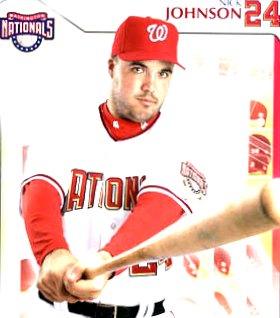 [September 30th] -- I think most of us believed that this was the year that Nick Johnson would finally survive an entire season without suffering a major injury, that he would once and for all show the baseball world why he's been considered a top prospect for so many years. I believed that he would hit .285 with 30 home runs and 100 rbi's. Of course, more injuries have robbed Johnson of any hope of reaching that kind of production. Going into the final 3 games, the big first baseman is batting .293 with 15 homers and 73 rbi's. It's very hard to measure his production because of all the games he missed.
If projected over a full 162 game schedule, Johnson's numbers would look like this:
G:162 - AB:558 - R:81 - H:163 - 2B:43 - 3B:4 - HR:19 - RBI:92 - AVE:.293 - OBP:.410 - SLG:.488
Those are certainly acceptable numbers for a first baseman over a full year, but nowhere near what a typical first baseman produces in the major leagues. The following is a list of National League first baseman who produced at a level expected for that position:
Tony Clark, AZ - Carlos Delgado, FL - Todd Helton, CO - Ryan Howard, PHI [based on full season projection] - Jim Thome, PHI [based on career production] - Derrek Lee, CHI, - Albert Puljols, STL - Lance Berkman,HOU
There are 8 NL first baseman who could be considered at a level above Nick Johnson. What about first baseman who produced below expectations for first?
Hee Seop Choi, LA - Julio Franco and Adam LaRoche, ATL - Doug Mientkiewicz, NYM - J.T. Snow, SF - Daryle Ward, PIT - Xavier Nady, SD - Jason Phillips, LA
There are 8 NL first baseman who could be considered at a level below Nick Johnson. There are two players who produce at a leve consistent with Nick Johnson:
Sean Casey, CIN & Lyle Overbay, MIL
Based on 2005 production, there are 8 first baseman in the National League who are "better" than Nick Johnson, 8 who are "worse," and 2 who are about the same.
It would seem then that Nick Johnson is a "middle of the road" National League first baseman. He has enough "pop" not to hurt his team, but certainly doesn't help them a great deal. On powerful teams like the Yankees or Red Sox, he would be a nice "piece" of the puzzle, but where the Nationals are concerned, he is one of the reasons for the team's lack of production in 2005. When you figure in his defensive skills, he becomes a quality player IF he is surrounded by other players who can make up the 12 home runs and 25 rbi's that his production lacks when compared to the other power hitting first baseman.
So, what do the Nationals do? Trade him for a slugging first sacker? No.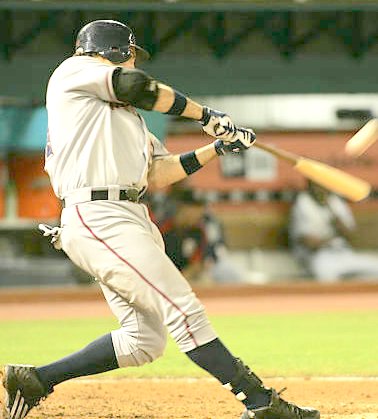 Nick Johnson doesn't have a great amount of trade value because of his continual injury problems. It would make more sense to leave him at first and invest in more run production at other positions. It would be wise to limit Johnson to 125 games a year by giving him regular days off during the season. Hopefully, this would keep him healthy. The Nats could sign a veteran first baseman to play the remaining 35+ games at first, a righthander along the lines of a Julio Franco.
The Nationals don't have a lot of choices at first base, and Nick Johnson is likely the best choice of the lot. But to become a REAL contender with Johnson at first, Washington has to find additional production from another source. That will be the key.
Can Junior Spivey Be The Nats Starting 2nd Baseman In 2006? [YES!]
Nats Nearing Their Goal: A Winning Season
Nationals Turn 80 In Miami [Wins That Is]
Holy Hector! Carrasco Bids For Rotation Slot in 2006
Hondo, Is That You?
"Hail To The Redskins, Hail Victory...."
Gut Jobben, Heir Zimmerman
Ryan Rules, Gary Drools
Nationals Chose Well In 2005 Amateur Draft
The Kids Come Through
Caution: Judge Nationals season on April Expectations, Not July Record
Stick A Fork In Nationals' Playoff Hopes -- They're Done
Padres Remarkable Comeback Dooms Nats 8-5
Surging Nats Take Wind Out Of San Diego's Sails
Having Swept The Mets, Nats Head West Still In Wildcard Hunt