The Bleeding Stops As Livan Comes Through Again
More Of The Same
Road Kill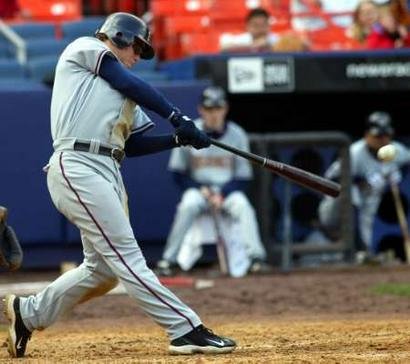 [July 28th] - Don't get mad at me, but I believe that the Washington Nationals have seen the last of first place for 2005 season. It's not because they're not winners. It's not because they're not trying. It's not because of team leadership. It's because they just aren't good enough.
Although this team's uniform is far more attractive than the one worn last year, the team itself is only a tiny bit better than the 2004 Expos. And in spite of a glaring lack of talent at many key positions, they are still going to end the season higher than most pundits thought.
So now the team is 3 games out of first. So what? This year was supposed to be [regardless of what Jim Bowden suggests] about seeing the kind of talent the team had, both at the major league level and in the farm system. More than half way through the season, we now have many of the required answers for next season:
Brian Schneider is one of the best catchers in the game. Lock him up in a long term contract.
Nick Johnson is too fragile to depend on him as an every day first baseman. Trade him to the American League, let him split time between first and DH
Jose Vidro might not be player he was two years ago, but he's still great. Keep him.
Christian Guzman isn't a major league baseball player anymore, but the closest talent in the minor leagues is 3-4 years away.
Vinny Castilla is done. Ryan Zimmerman is doing well at AA -- if he does well in a possible August promotion to New Orleans, then he needs to learn on the job next year in D.C.
Brad Wilkerson strikes out too much and is too inconsistent. I'd rather have a fleet footed lead off hitter instead.
Preston Wilson will be long gone come October 1st.
Although Jose Guillen is only a step or two away from super-stardom, he's too volatile. At a close play at 3rd against the Braves Thursday, he went "spikes up" and tried to hurt Chipper Jones. He immediately jumped up and apologized, but it was obvious; he aimed at Chipper's bad foot.
Livan Hernandez and John Patterson are #1 starters. I'd sign Esteban, cut loose Drese and we'll probably lose Armas to free agency anyway. Cordero is a stud, but his penchant for baserunners might catch up with him one of these years.
My guess is that the new owner will pump $30 million into the team's payroll. That translates into 2-4 quality starting players. Boom. Just like that, 2006 will bring a REAL pennant contender.
No worries mate.
It's A Long Walk home
Time To Pummel The Peachtree
Nats Lose Yet Again, Get Mugged In D.C.
Oops
D.C. Basks In Glow Of Patterson's Performance
Fallen On Hard Times ...
I'm At A Loss ....
Oh, So That's What It Feels Like To Win A Game
Different Names, Same Results
Looking Into The Future: Things That Have To Happen For The Nats To Make The Playoffs
Done Deal
According To Sporting News, Nationals To Remain On Top In 2nd Half
With Wilson Deal Nearing Completion, What Now?
Favorite All-Star Memory: HONDO WHACKS LONG ONE
New Stadium Should Incorporate Much Of What Opposing Teams Hate About RFK
Tire Loose On Nationals Buggy, But Still Hanging On By A Nut
Jinxed
Is It Worth It?
Tag, We Win
Braves Pockets Deeper Than the Nationals, And I'm Not Talking Dollars
The Great Leveling Begins?
Livan Hernandez. So Who Knew?
** FAN-O-GRAM TO DIMITRI**
Trades I'd Like To See The Nationals Make
Nats Beat Pedro, Begin New Streak
Happy 4th of July
Speechless
Turning Point In Nats Season Today At Wrigley
Home Field Ivy Works Against Cubs, Burnitz As Nats Keep On Rolling
Nats Catch Break Against Cubs, Face Jerome Williams Saturday
No Church, No Guzman, No Johnson, No Problem
Plea To Lee: Stay Home And Watch Dr. Phil