So Let's Talk About This New Park
Being a native Washingtonian (well, almost native), this whole 'new ballpark thing' worries me. I am old enough to remember the rumblings about a new, state of the art stadium that was to be built to replace the aging Griffith Stadium. I remember a bevy of Washington types getting together and creating their 'masterpiece.' "No, can't have light towers" said one. "Oh heavens, a flat circular roof wont have any artistic nuances" said another. I can't remember the name of the group (something like "The Washington Endowment for the Arts") but they helped create the new stadium as if it was a new monument for out nation's capitol. What we got was a waffle.

The outside wasn't too bad, with those vertical aluminum posts hiding the banked concrete walkways. I always thought that "sad face" people cover was kinda cool, with "D.C. Stadium" arched across the front of it (later R.F.K. Stadium) in shiny aluminum letters.

The bowl of the stadium felt comfortable enough, but I never did figure why there were no outfield stands. That huge dreary concrete wall banked from left to right, broken up by the semi-eliptical scoreboard in right (I actually got my name on the 'magic-message' board once) and the crude tarpaulin roofs that covered the bull pens in left. And, is anyone else amazed that D.C. Stadium, built at an astounding cost of almost $16 million, used chain linkfor the outfield fence? This was art? I always wanted to sit in the mezzanine section, but never had the extra dollar or two that it took to get in there. Oh well.

OK, on to the new stadium. If it is going to be similar to the rendition shown at the Munsey and Suppes ballpark site, then I'm impressed. But that drawing has been there for sometime, and I don't know if the D.C. art police have had their chance to chop it up into little art works yet.
We'll see.


Which Stat is THE Stat?
Since the days of Ty Cobb, fans and sports journalists have argued over which of the many baseball statistics is the true measure of a players ability - - which stat indicates the worth of a particular player to his team. Time for me to chime in.
On base percentage. No fooling.
The big four can be misleading. Batting average - home runs - rbi's & stolen bases pay the bills, but don't provide as many wins as you might think.
Case in point: Former Senator third sacker Ed Yost. Yost, who played for the Nats for much of the 1950s, never hit much more than .270. But he consistantly led the league in walks, and by a huge margin. In 1953, Yost hit .273 with 123 walks. Gil McDougald, the quality Yankee third baseman, walked only 60 times, about average for third baseman during this era. What if we took all those Yost walks (those above 60) and turned them into singles. After all, a walk is as good as a single. right? That .272 average turns into .381 and he leads the league in batting by almost 70 points.
Gil Mcdougal had an OBP (on base percentage) of .395, very good even by today's standards. (Remember, Christian Guzman has an OBP of .313 for 2004). Eddie Yost had an OBP of .485.
What? .485? That's Barry Bonds territory. Eddie Yost, this little ol' third baseman who hit only 9 homers and knocked in only 45 rbi's, got on base almost half the time. The result? He scored 107 runs, a full 16% of his team's runs for the '53 season. By comparison, Gil McDougal scored 82 runs, or 10% of his teams runs. What does this all mean? Simple
It's not how many homers you hit, or how many runs you drive in; it's how many runs you score. The more you are on base, the more runs the team scores, and the more games you win. That same year, Brooklyn's Junior Gilliam walked 100 times and scored 125 .. Stan Musial walked 105 times and scored 127. Walks = runs scored.
So, how does current third sacker Vinny Castilla compare to Mr. Yost (we'll use his stats from two years ago in Atlanta -- don't want to use inflated mile-high numbers). Vinny walked (are you ready for this?) 26 times in 542 at-bats, scored 65 runs, and had an OBP of .310. Even if he approaches these numbers for the Nats next season, I am afraid there wont be a great deal of run production (runs scored + rbi's) from third.
Et Tu, Lima?
Look, I understand that we are a $50 million dollar team, which makes us a little less financially able than the St. Louis Browns of the early 1950s. Got it. But, 'would it spoil some vast, eternal plan' if we coughed up a few bucks for some pitching? How much would it have cost us to sign
Paul Byrd
? How about
Jose Lima
? Add them together and it would total what, about $10 million per year? That is about what we paid for Castilla and Guzman. These two could have added 25 wins for the Nats. Assuming that Livan wins 15, a healthy Armas 12 and Day maybe 9, you come up with a starting four that might win 60 games, leaving the rest of the team to win another 21 and give us a .500 first season (and that, my friends, is nothing to sneeze at).
My biggest fear is that the new owner cans Bowden and brings in 'his' guy, who then takes the team in another direction and leaves us fans wallowing in a perpetual Nats 'rebuilding phase.' I don't want to become another Oakland A's, who has to trade off our best players for prospects. D.C. is a strong enough market that we should be able to pay our players the going rates.
The Beltway Boys
The Beltway Boys
Tis the day after Christmas, and I got everything I wanted except one little thing. Frank Howard still isn't part of the new Nationals team. Does anyone else see him as a MUST for the new Nats? I'll kick in $10 if that will help him come home.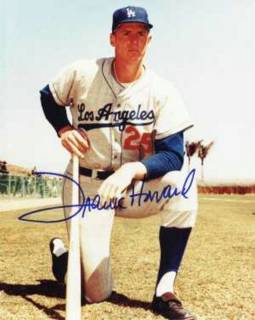 Frank Howard as a Dodger in 1962 -
Howard Came to the Senators in a
trade that also brought Ken McMullen
and Phil Ortega for Claude O'Steen
(and some minor players that I can't
remember anymore)
2005 Nats vs 1969 Senators
I thought it might be fun to compare the current Nats vs the best of the expansion Senators, the Ted William's led 1969 team:
1B] Mike Epstein vs Brad Wilkerson
Very similar, with a small nudge to Epstein. The two first baseman had
almost identical numbers, although Epstein batted only against right
handers
2B] Bernie Allen/Tim Cullen vs Jose Vidro
No comparison. Bernie Allen was on the downside of an average career
and Tim Cullen never was able to hit major league curveballs. Jose Vidro,
when healthy, is as good a second baseman as there is.
SS] Ed Brinkman vs Christian Guzman
Nothing particularly wrong with Guzman, but Brinkman was the best
fielding shortstop in the majors whose name wasn't Mark Ballanger.
Brinkman also hit well in 1969. Brinkman wins.
3B] Kenny McMullen vs Vinny Castilla
Very interesting matchup. Two excellent fielders with some pop in their
bats. McMullen hit 19 homers and drove in close to 90 runs in '69,
numbers Castilla may duplicate. McMullen wins only because he was
much younger
LF] Frank Howard vs Termel Sledge
At first glance, this is a 'what, are you kidding?' comparison. Over a five
year period, Hondo was the premier power hitter in the AL. Sledge?
Well, Sledge has a .280-25-90 type season written all over him. Frank
Howard was a, um, (cough) a .. defensive liability in left. OK .. he was
horrible in the field. The only reason they didn't call him 'Dr. Strangelove'
is because there was a certain first baseman that already had that
nickname. Sledge is a very good fielder. When you factor in runs saved
vs. runs given up in the field, the runs produced between the two will
be pretty close. Howard wins, but not by as much as you'd think.
CF] Del Unser vs Endy Chavez
Both hit for a good average, had some speed and played a quality
center field. Chavez may be a bit better at tracking down balls hit to the
alleys, although Unser had a deadly arm. Chavez by a smidge
RF] Lee Maye vs Jose Guillen
If the Senators had Lee May, and not Lee Maye in right, it would have
been tight. But Lee Maye was in his mid 30s, and though he hit for a
good average, he had no power left. Guillen will produce a .300-30-100
type season. Guillen in a walk.
C ] Jim French/Paul Cassanova vs Brian Schneider
The Senators had little more than warm bodies behind the plate.
Cassanova made the all-star team his first year, but was a shadow of his
former self by 1968. Schneider is the premier defensive catcher in the
NL, and I think he can produce a .265-14-60 type season, which is
tremendous for a defensive catcher.
So, the final tally: Nationals 4, Senators 4. We'll compare pitching staffs and bench quality tomorrow. For fun, we'll see who wins the Frank Robinson vs Ted Williams comparison.
Armas is 'X' Factor for Nats
I know, I know.
Tony
Armas has issues. But he could be the 'x' factor for the Nats next season. Armas has always had good stuff, but health issues has limited his productivity. He has an excellent strikeout to innings pitched ratio, though his walks are a bit high. He reminds me a lot of Russ Ortiz in terms of stuff and place in the rotation. When healthy, he is a number two guy who can eat a lot of innnings and keep the team in a position to win each start. For the Nats to be successful, Armas needs to win 14 games and keep his ERA close to 4.00. We'll see.
Jose: A Good Trade
We have got to face facts. Financially, we are still the Expos. With a salary cap of about $50 million, we just can't make many high profile trades because we have no high profile talent to give up. Also, we don't have the dollars to sign high profile free agent talent. So, for now, we get what we can get.

Guillen reminds me a great deal of Dave Parker. Known as a bad boy in Pittsburgh, he was traded to the Reds, where his numbers actually increased while he cleaned up his act both on and off the field. Bowden has remarked several times that Jose was a good citizen when they both were with the Reds organization. Agreed, he did a very stupid thing, but it seems a somewhat isolated stupid thing.
On paper, the Nats got more talent than they gave up. I see Guillen as a 300-30-100 guy for many years to come, a cornerstone of the franchise in right field. He will go out of his way this season to show he is of good character. While he'll never be in the Frank Howard class, he'll make us proud, both on and off the field.
Top 10 Senators memories
The promise of a new era in Washington baseball has brought back many Senators memories from the 1960s. Here are my top ten, in no particular order:
1] Frank Howard hitting ten homeruns in seven games in the summer of 1968.
2] Ron Hansen hit a grand slam, turned an UNASSISTED triple play, struck out 13 straight times, and got traded to the White Sox, all in one week
3] Dick Bosman leading the AL in ERA in 1969
4] Ted Williams working his magic on Eddie Brinkman. Brinkman, a career .190 hitter, hit (about) .267 in '69 and .266 in '70.
5] Bob Short trading Eddie Brinkman, Aurelio Rodrieguez and Joe Coleman to the Tigers for Denny Mclain and a bunch of guys named Joe (Step one in the process of making the team so bad that he could move them at the end of the year - - I think the movie 'Major League' was based on what Short did to DC)
6] Chuck Hinton being the only Senator to hit .300 during the expansion era ('64 I think)
7] Frank Howard was tied with Harmon Killebrew for the league lead in homers going into the last day of the 1969 season. The Twins played an afternoon game and Killebrew hit number 49. Williams batted Hondo LEADOFF for that last game, but didn't hit another homer. Whitfield did make this call, though: "Howard swings and hits one deep to left, way back there, going ... going .. caught at the warning track." I threw everything in the room that wasn't nailed down.
8] Seeing Curt Flood play for the Senators opening day 1971 (well past his prime sadly)
9] Being at that opening day game in 1971, watching the Senators beat the Oakland A's and Vida Blue 8-0 behind ace Dick Bosman. Short didn't start McLain so he could get another big crowed the next game too. Brother.
10] The entire 1969 season. The expansion Senators had their only winning season, finishing forth in the AL East at 86-76, only one game behind Boston for third. Mike Epstein, Ed Brinkman, Ken McMullen, Del Unser and Lee Maye all had career years. Dick Bosman had a breakout year, and Casey Cox and Joe Coleman pitched well too. There was so much hope for the 1970 season, but owner Bob Short traded McMullen early in the season after a slow start, and the Senators never recovered.


New Logo Different
The more I looked at the new Nats hat, the more I began to realize that the logo is a bit different. I remembered the swoop of the 'W' as being squared off on the one I wore as a wee lad in the late 60s. Sure 'nuff, just a little different. Just thought it was interesting.


Uniformity Conformity
OK, I agree. The new uniforms, are, um, blah. And as one fellow blogger suggests, the curly 'W' on the hat doesn't match the uniform. I think the 'blahness' of the uniforms were done for a reason.

We have to remember that no one owns the Nats yet. Well, MLB does, but a bunch of rich old guys don't much care about uniforms; they care about making even more buckets of money then they already have. The soon-to-be new owner has been given a 'generic' uniform that will most certainly (I hope) be revamped the year after the team is purchased. So, for now, it isn't 'barf' ugly, but it aint a Picasso either.

I gotta talk about the hat. It was terribly important that MLB connect with those of us who remember Ted Williams, Frank Howard, Eddie Brinkman and Denny McLain. Well, o.k., McLain went 10-22 his only season as a Senator, so I guess we should try to forget him, but the other fellas are part of our youth, and the hat is a great way of connecting my generation of Senators fans with the new generation of Nationals fans. I love the red at home and blue on the road motif. Thank goodness, though, that they didn't replicate the ugly blue hat used in '66 that had the red piping between the hat panels. Yuck. Rather than have a new hat to match the uniform, I believe (hope) that the next generations of uniform will match the hat.

A word about the team name. The 'Senators' being politically incorrect, and my personal favorite (the Federals, a la our late USFL team) being unpopular, the name 'Nationals' make a lot of sense. I never saw 'Senators' in any headline in the Post sports page. It was always something like, "Howard hits two homers, Nats lose 8-3."

Memo to Robert Short: Stay away. We're keeping this team, thank you. Memo to the Griffith family: Stay away. Why didn't the Senators draw? Does the phrase, "First in war, first in peace, and last in the American league" mean anything to you?? Go Nats