Dawn Of A New Day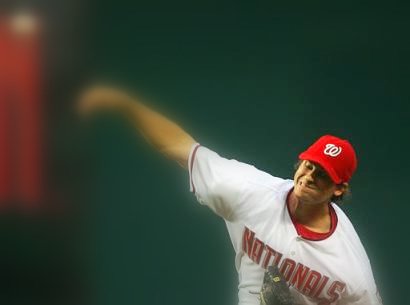 Zach Day gets back on track
For the first time in 14 years, Bobby Cox and the Atlanta Braves are worried. And for the first time in 34 years, Washington baseball fans have something to smile about.
In both cases, it's about time.
Zach Day pitched a seven inning masterpiece, and removed himself from manager Frank Robinson's doghouse, which can be found beyond the outfield fence and squarely in the bullpen. It's easy to forgive the four walks and the need for a couple of double plays to get him out of trouble.
Seven of the first nine outs of the game were fly balls, not a good sign for a sinkerball pitcher. By the third inning, however, the gained control of his sinker and breezed through the rest of the game.
Chad Cordero made it interesting [again]. Two runners got on before he struck out Brian Jordan and Andrew Jones to end the game. Cordero has the stuff of greatness, but at age 22, he has yet to harness his talent. Soon, maybe later this year, maybe sometime next year, Chad Cordero's name will strike fear in the hearts of opposing teams like John Smoltz and Eric Gagne. For now, we'll take a little bit of nervousness as he learns his trade.
Bobby Cox is finally beginning to feel the financial constraints placed upon John Scherholtz by AOL/TimeWarner. Last season, Cox and the Braves won their divison with smoke and mirrors. This was a year of "ifs." If Brian Jordan and Raul Mondesi hit like they used to, if Adam LaRoche begins to take command of first base, if Chipper comes back from an off year, if Kolb can handle the stress of closing games on national TV night in and night out, if....well...you get the picture. Thus far, and the season is young, I'm just not sure.
NATS NOTES:
I was happy to see Schneider throw Furcal out at 2nd base ... after a one game breakout, it looks like Christian Guzman is back to being the major league version of Endy Chavez. Having Day pitch this well bodes well for the Nats starting rotation. When Tony Armas Jr. comes back from injury, which pitcher will they remove from the rotation? If you go purely on performance, wouldn't that have to be Livan?
Early game tomorrow -- think I'm going to stay home and enjoy it.