Ged Oudda Heah!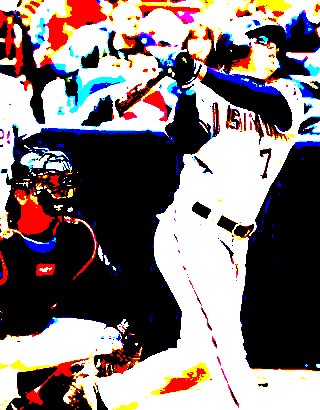 Brad Wilkerson [sort of]
This is how Brad Wilkerson looked when he hit is long home run in Sunday's game against the Mets. To Nationals fans, he looked crisp, sharp and in tune. To the two large guys in sweaty Mets caps who were sitting behind the Mets' dugout, he looked more like this. A dozen Pabsts will do that to the ol' optic nerves.
I really had my reservations about Wilkerson hitting leadoff for the Nats. He struck out too much. He wasn't particuarly fast. But mainly, he just didn't look like a lead off hitter. But his talents have made up for his looks, and I am beginning to be a believer. Wilkerson leading off, Nick Johnson batting second, and Jose Vidro third. Awesome. A great top third of the order.
Brad Wilkerson has the potential to be the face of the Nationals, the next Frank Howard in DC. Wilkerson is so close to becoming a star, and this might be the year that it happens. Wilkerson reminds me of John Kruk and Lenny Dykstra. They both got their uniforms duty, they hit behind the runner, and played quality defense. Wilkerson's strikeout total is the only thing keeping him among the list of "really good players." Take a look at his
career numbers
. Each year, he gets better. Each year, his strikeout totals go down. This year, they are up, but, the season is young. My Prediction for Wilkerson for 2005: .279 - 26 - 78 ... great numbers for a leadoff hitter. But please, Jim, or John, or whoever we have next year, GET US A REAL LEADOFF HITTER!!