Mets New Uniform?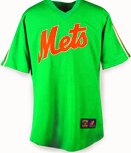 What's the deal?
The New York Mets equipment manager pulled the team's uniforms out of the dryer this afternoon and found them all looking like this. The Orange in the logo remained unchanged, but the body of the uniform turned green.
I think it's a sign from the Mets fans. They've been supporting their team since
1962
, and outside of a couple of fluke
World Series victories
, they've watched little more than several decades of gloom.
The Mets won 40 games their first year. We'll have that before the all-star break. I think the fans are simply "green" with envy.
And aint that great.