Ohka Rains On Zambrano's Parade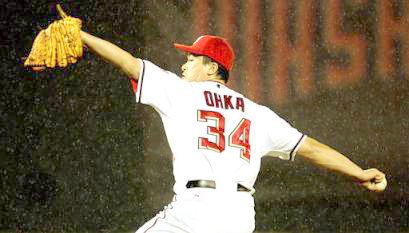 Raindrops and Runs at RFK
Who was the biggest loser following the Nationals 5-3 win over the once again moribund New York Mets? Victor Zambrano? Manny Aybar? No. The Grounds Crew. Following the umpire's second halt in play due to the weather conditions, the RFK grounds crew, too few in numbers and too inexperienced for nights like this, took almost 30 minutes to get the infield covered with the tarp. By then it was too late, and any hope for continuing the game was gone.
That said, the Nationals went into Saturday night's game trying to address three glaring problems: centerfield, shortstop and Tomo Ohka. This night, the Nats went three for three in the problem solving boxscore.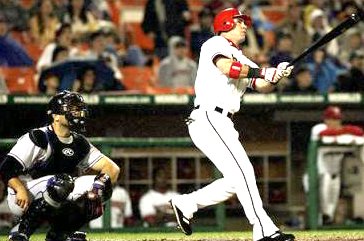 The Church bells are ringing again at RFK Stadium.
Ryan Church
, the on-again, off-again, on-again centerfielder, singled and homered to bring his average within striking distance of the Mendoza line. Church has the potential to make this good team
very
good; he must only gain confidence and playing time to do so.
Termel Sledge
his better
right now
, but Church could be soooo good given time and patience.
Christian Guzman
got his
sixth
hit of the homestand, raising his average from .165 to .209 [raising is a relative term]. By the end of May, we will all have forgotten the offensive and defensive lapses that have plagued the former allstar this season. Yeah right. It is
surprising
that D.C. is such a Democratic city because it has a memory like an elephant. We'll forgive. We won't forget.
The third member of the terrific troika was starting pitcher
Tomo Ohka
. Said manager Frank Robinson after his last poor outing against the Mets last weekend, "There's something wrong. I'm telling you, I've seen him for what, three or four years now, and this isn't him. His velocity is off by three or four miles per hour, and that's the difference between success and disaster in this league." Ohka worked with pitching coach Randy St. Clair in the bullpen this week, and both indicated that they found the problem with his mechanics and corrected them.
I'll say.
Ohka pitched brilliantly. In six innings, he have up two hits and only one walk while striking out three. His ERA is now a respectable 4.50, and that is with only one good start under his belt.
Ohka is only 29 years old, and has pitched fairly well since coming to America in 1999. He isn't a power pitcher, and needs good location to succeed. He succeeded tonight. In his two complete years as a starter, he produced very good numbers. Below is an average of those years, 2002 and 2003 with Montreal:
Games: 33 ~ Innings: 195 ~ Record: 12-10 ~ ERA: 3.67 ~ Strikeouts: 118 ~ Walks: 45
What an impressive accomplishment this would be for Ohka and the Nationals as the fourth or fifth starter in the rotation this year. His strikeout to walk ratio was better than 2:1, superb for even the most dominating pitchers. How many better rotations are there in the league than
John Patterson ~ Livan Hernandez ~ Tony Armas Jr. ~ Esteban Loaiza & Tomo Ohka
.
Zach Day
, who has such an enormous upside, could be used as trade material to obtain a good centerfielder if Ryan Church and/or Termel Sledge just don't pan out.
NATS NOTES:
The Nationals got 10 hits tonight, with Ryan Church and Vinny Castilla each getting two ... I'm beginning to see a streaky side of Brad Wilkerson, he'll crush the ball for four games and then do little for the next four ... Nick Johnson hit his second homer of the year; I think he'll get to 25 after all ... The Nats have a Jekyl and Hyde Lineup: The first five batters: ~ .323/.291/.314/.303/.347 and the last three: .190/.214/.209 ... The Nationals are 13th in the National League in fielding, this from a team that manager Frank Robinson said was the "Best defensive team I have ever managed." Yeah right ... The Nats are on national TV for the first time this year tomorrow night [I don't consider TBS national, just cable].
Comments:
Thanks for the laser hair removal chicago info, I added you to my favorites.
If you are interested in laser hair removal chicago I have a
laser hair removal chicago
site.
Feel free to drop by and tell me what you think.
Post a Comment
Links to this post:
<< Home