Walks. Errors. Runs. Lose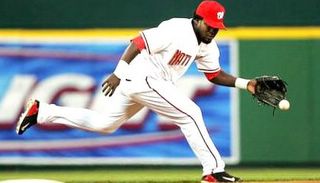 The Gooooz
There are two very distinct parts of Monday's game between the Nats and the Phillies to consider. First, there was the minor league aspect. You know, the part where the home team made errors, walked the opposing batters ... over and over and over again. Runs scored that shouldn't have. Seven walks and two errors = 9 Phillies that didn't earn their place on the basepaths. The Nats lost by a single run. I am now beginning to understand why Nationals manager Frank Robinson has a short fuse when it comes to Mr. Day. Seven scoreless innings followed by five walks. No constistancy.
Now, the good part. The Nationals were down late in the game, and again, they came back, almost tying or perhaps even winning the game in the 9th inning off of one of the scariest relievers in the league, Billy Wagner. Brad Wilkerson and Jose Vidro whacked three hits a piece, and several other players added a single safety.
After getting 17 hits yesterday, the offense rapped out another 12 tonight. Only three of the Phillies runs were earned, meaning this was a game the Nationals should have won.
Thats the great thing about baseball. We only have to wait until tomorrow to watch our heroes redeem themselves. And redeem they shall.