But I Digress ...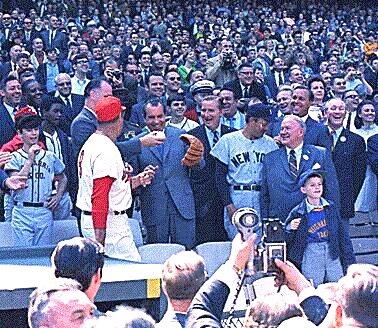 Opening Day 1969
Nationals fans too young to remember the Senators, forgive me for this digression. I'm feeling a bit melencholy today and the weather here in Idaho reminded me a great deal of the first Senators game I ever saw, the 1969
Opening Day game
.
Don't let the sunshine or the light jackets fool you in the photograph. By the middle of the game, it was overcast and misting. That's Ted Williams on the left and Yankee manager Ralph Houk on the right. President Nixon is in the middle. To the left of Houk is former Senators manager Joe Cronin, then AL President. Owner Bob Short is behind President Nixon. Funny. By the early 1970s, both Short and Nixon found themselves living "elsewhere."
The Senators got trounced,
8-4
. But the game wasn't the most memorable part of the day. There on the turf of RFK Stadium, around the middle of the game,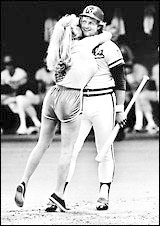 Morganna the "Wild One," also known as the "kissing bandit," ran on to the field and gave Frank Howard a big hug and kiss at home plate, similar to the above image of George Brett. This was Morganna's first baseball publicity stunt, and poor Frank didn't know what to do. I never saw a woman with such big, uh ... hair.
It was fun to see Nixon. It was great to see Morganna, but it was tremendous to see the Senators play in a filled RFK Stadium.
I'll always love the Nationals, but I will
cherish
the memories of The
Washington Senators
. I can honestly say I wouldn't be the same person without them. While my friends were sneaking out of the house and getting into lots of
trouble
, I stayed home and listened to the Senators games on the
radio
. Thanks Senators. I owe you. Big time.