Church Continues To Repent For Poor Start, Nats Stun Giants 11-8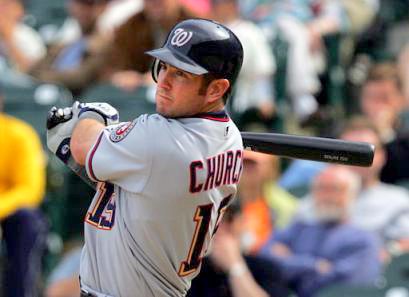 Ryan Church Blasts A 3 Run Double
OK. Now, you have to be patient with me for just a moment. I need to tell you a story.
The 1969 Senators started like all of their predecessors since the McKinely Administration. They were lousy. The lost to the Yankees 8-4 on opening day, and things went downhill from there. By June, however, Senators fans were beginning to realize that this team wasn't as lousy as we thought. They reached the .500 mark by mid June and by July, Ted Williams had his team competitive.
The Red Sox came to town in late July for a four game weekend series. The Senators won the first two, and were set to play a Sunday doubleheader, something the team did fairly often during Bob Short's ownership. In the first Inning, second baseman Mike Andrews led off with a single. Dalton Jones followed with a double, and Reggie Smith walked to load the bases, bringing up Carl Yaztremski. On the first pitch from Casey Cox, Yaz lined a curve ball off of the People's Drug Sign above the rightfield scoreboard. Just like that: 4-0. I dropped my head and muttered, "Oh man, here they go.." Then I realized something. These were not Mickey Vernon's Senators. They weren't Jim Lemon's or Gil Hodges' either. No, they were Ted Williams team. They
could
come back and win the game. And they did. Frank Howard and Jim French homered, and Del Unser drove in the winning run in the 8th for a 5-4 come from behind win. From that point, I never doubted the talent or the desire of the Senators again.
So, when Moises Alou smashed his 4th inning grandslam, the deja vu of it all really weirded me out. Big time. But just like Yaz 36 years ago, a warm sense of certainty enveloped me. "No sweat ... they'll come back and win." I never doubted it. Now, I'm not clairvoyant; this has nothing to do with me. It's just that the Nationals have repeatedly shown this year that they, just like the Senators of 1969, have the talent and the desire to win every game they play.
And how cool that is.
It was obvious that from the beginning of the game that neither Jason Schmidt or John Patterson had their "good" stuff. Each ace was leaving men on and barely escaping those early innings unscathed. But because both of them are quality pitchers, they made the pitches they had to to stay in the game.
That is, until the third inning.
Moises Alou whacked a 3-1 fastball deep into the left field stands for his third career grandslam, giving the Giants a 4-0 lead. Things didn't look good at this point. Our ace just didn't have it, and Jason Schmidt was able to contain the Nats using his "B" stuff.
How soon I forgot the lesson Yaz taught me.
The Nationals clawed back in the top half of the 4th with seven runs, again showing that they have become a big-inning team.
Zach Day
, however, was perhaps the most valuable player for the Giants as they plated another 4 runs in the 5th to go ahead 8-7. Late inning heroics again, this time in the 9th, allowed the Nats to win the game, 11-8.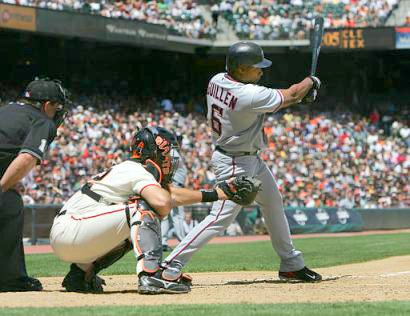 The big player in the "Boys" comeback was pinch hitter Jose Guillen, who singled and plated two runs to jump-start the rally. Although Guillen wouldn't have to go on the disabled list, team officials said he would likely miss "4-5 games." Nope. Mr. Guillen came to Washington to play baseball, and nothing save a broken bone will stop him.
Another story line [man, there were so many] was manager Frank Robinson pulling John Patterson so early in the game. The Giants broadcasters spent a great deal of time talking about Frank's "quick hook" the past two days. I wholeheartedly agree with F-Robby. Give the team a chance to win. Pull the pitcher if he's not pitching well, especially if that pitcher doesn't have a history of getting stronger and sharper during the game. If Robinson doesn't pull Ohka yesterday, and Patterson today, I doubt that we win either of those games.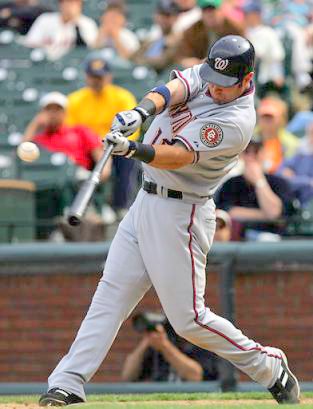 Who knows why players react so differently when opportunity presents itself. Ryan Church was pretty much designated as "the" centerfielder at the beginning of the year, and promptly found himself riding the pines in favor of Termel Sledge. When he did get to play, he played poorly. Then Sledge gets hurt, the position is handed to Ryan, and he responds by raising his average from .196 to .267 with 7 RBIs in two games. I've said this three times already this season, but maybe, just maybe, this will be the turning point for young Mr. Church.
Jamie Carroll also starred in this afternoon's game, going 3-4 and raising his average to .385. With Vidro set to miss at least two weeks, Carroll has proven himself to be an asset and not a stopgap while Vidro mends. Surprisingly, Jamie is no rookie. He is 31, and has had three quality seasons with the Expos. Huh. Go figure.
Looks like Vinny Castilla is finally coming back to reality. He went hitless tonight and saw his average "drop" to .316. To be fair, if Vinny bats .265 for the season, we'd all be very happy. We expected defense and some occasional pop. So far, we're getting that and more.
What to do with Zach Day? Given a "second chance" for the third time, Day again was a liability for the Nationals, giving up four runs in one inning, raising his ERA to above 6.00. I have to think that his days as a productive pitcher for the Nats is over. Sad. We could have gotten so much for him just a month ago. Now what? Spend the summer in New Orleans with Joe Horgan?
The Nationals are four games over .500 for the first time this year. How cool is that? How proud I am of these overacheivers who just don't give up. So far, five games through the hardest roadtrip they'll face this year, they are 4-1. Sunday, it will be Esteban Loiaza vs. Kirk Reuter, who is 1-2 with an ERA of 5.96. Good chance to sweep the Giants. I can't believe I'm even thinking that.
Oh, sorry Yaz. I keep forgetting the magic of baseball.
Comments:
The story about the Red Sox coming into RFK in the Summer of '69 is very interesting...if only it were true. I think you're conflating multiple events (ah, memory is a funny beast). The Sox went to RFK in late June of 1969 (6/27, 28 and 29). They split the first two games of the series. In the fourth inning of the first game Rico Petrocelli hit a 3-run HR off Jim Hannan which put the Sox up 3-1 at the time. Dalton Jones and Mike Andrews were *not* on base but Yaz and Reggie Smith were. The Sox scored a run in the top of the 9th to make it 4-2 and then the Sens scored 3 in the bottom of the inning to win 5-4 on two Red Sox errors. The WAS players you mention were not involved in the scoring. In fact, Jim French was replaced by a PH in the inning. In the second game, Yaz hit a three run homer off Joe Coleman in the top of the first. The Sens came back with 6 in the bottom of the 2nd on their way to an 11-4 rout. As far as I can tell, Yaz did not hit a HR off Casey Cox in 1969 and he never hit a grand slam off him. You can check all this out at www.retrosheet.org. Feel free to email me your comments at mbouchard58@yahoo.com
Post a Comment
Links to this post:
<< Home