Day Done, Way Wild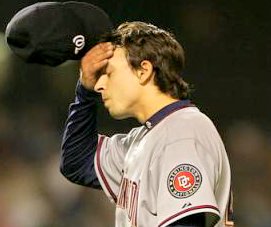 Sweating Bullets
It's not that the Los Angeles Dodgers
shouldn't
have won the game. They are in first place in the National League West, for goodness sake. No, that's not the problem. The problem is how they won.
Zach Day suffered through control problems again Tuesday night, leaving the game after only 3 2/3 innings, despite giving up only two runs. Washington manager Frank Robinson could see his problems were only getting worse, and the only way to win the game was to pull Day. Prior to last night's game, Robinson said of Day,
"The kid has got to learn to throw strikes if he's going to be effective."
Uh-huh. Three walks and six hits in 3 + innings. I'm thinking he didn't listen. On the positive [?] side, Day did drop his ERA to 5.06.
Jeff Weaver, looking equally ineffective in the early going, gained control of his sinker and pitched "lights out" after giving up the Nats only two runs of the game.
NATS NOTES:
Brad Wilkerson broke out of his 0-21 slump with a double off of Weaver ... Jose Vidro is now in the throws of a slump, having only 3 hits in his last 34 at bats ... Jose Guillen had two more hits to raise his average to .330 ... Christian Guzman now cannot recall who Mario Mendoza even was as he had two more hits to run his hitting streak to 11 games and his average to .247 ...Ryan Church made his first attempt to lock down the third outfield position by going 2-4 ... The Nationals continue to show poor baserunning skills as with runners on first and second with no out, a base hit to the outfield found Brian Schneider standing at third, and Christian Guzman picked off of second; The Nats were down by two at the time.