DAY-OH, DAY-HAY-OH, DAYLIGHT'S BREAKING, AND DAY WANT TO GO HOME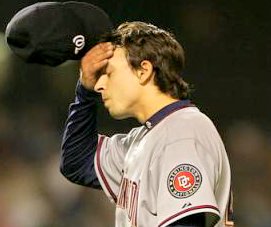 Send Me Home On the Riverboat Queen?
I woke up this morning and clicked over to the
Washington Post
,
expecting to read a story very complementary about the Nationals and Livan Hernandez after their 5-2 win last night in Lost Angeles. It was, for about the first couple of paragraphs. The story then shifted to the problems of one Mr. Zach Day, hometown:
Cincinnati
Ohio.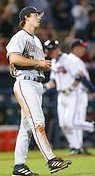 Frank Robinson
said
, "Yeah. Zach Day doesn't think I like him. He thinks I hate him, and anything I do, short of him being successful, he's going to think I'm not giving him the opportunity to pitch enough. "Day didn't dispute that assessment, either. "Just by what's gone on, just by what's on the field," Day said."
Day seemed upset last night that Robinson pulled him out of the previous night's game before the end of the fourth inning, while Hernandez was given the opportunity to work out of jams all night. How upset was he last night? According to the Post, Robinson came out to get Day, which "..
led to a tense moment in which Day turned his back toward Robinson when the manager came to remove him. And it led Robinson to say before Wednesday's game that Day could benefit from a change of scenery"
Robinson was diplomatic, saying that a "change of scenery" might help him restore his confidence. Nationals GM Jim Bowden repeated that Day is an important part of the pitching staff, "whether in the starting rotation or in the bullpen."
[hint hint]
Robinson has already said that Day is going into the bullpen when Tony Armas Jr. is recalled from New Orleans.
There is a differing viewpoint as to that move within the team, however.
"I don't think going to the pen helps,"
pitching coach Randy St. Claire said.
"If you don't have any confidence, you don't have any confidence. If you don't trust your stuff and believe in your stuff and believe in yourself, what's the difference?"
Day, for his part, seemed to like the idea of moving on, saying,
"It's something that I've thought about," Day said. "I'll just put it like that."
Earlier this spring, we all heard rumors about a
Zach Day for Wily Mo Pena
trade, but I thought at the time the Reds would never go for it. Wrong. It was the Reds, according to the article, that initiated talks, and it was the Nats that thought the price was too high.
As of Last Night:
Zach Day

WINS: 1 -- LOSSES 2 -- ERA: 5.06 -- WALKS: 16 -- STRIKEOUTS: 11
Wily Mo Pena:

AVE: 312 -- HR: 6 -- RBI: 12 -- OBP: .353 -- SLUG: .812
At this point, I'm not sure the cost to aquire Pena would have been all that high. But in fairness, we all expected much more from Day so far this season, and didn't expect near as much from Pena. We thought either Church or Sledge would have jumped out of the pack by now, and that the rest of the pitching staff would not have been nearly this effective.
Hey Jim Bowden, give The Reds a call. You never know.