Dee-Fense ... Dee-Fense ... Dee-Fense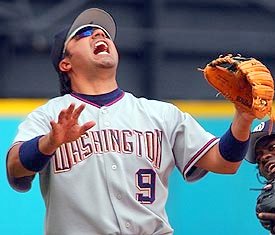 Vinny Von Vonderful
Many "would be" Washington Nationals fans squirmed and stammered as Trader Jim Bowden signed a new left side of the infield last fall. Both players, Vinny Castilla and Christian Guzman were players that no one else wanted. "Stopgap" and "affordable" were the words heard reverberating around the Beltway.
In the words of that famous Country music song, "Whose sorry now...."
With the game tied 1-1, Vinny Castilla blasted a double into deep right-centerfield that began a four run seventh inning that allowed Livan Hernandez and the Nationals to coast to a 5-2 win. But it wasn't Vinny's blast that made the
real
difference in the game. With a runner on second and no outs, Christian Guzman went deep into the hole at short, twirled, jumped and threw the ball all in one motion toward the general direction of firstbaseman Nick Johnson, who plucked the ball out of the dirt for the first out of the inning. Although that baserunner eventually scored, Guzman's stellar play stopped any chance for a big inning for the Dodgers. Two innings later, Vinny Castilla plucked a Milton Bradley ground ball off the line behind the bag and in mid-air, twirled and fired a strike to Jamie Carroll to force Jeff Kent at second. Without those two defensive plays, the Dodgers would have stood a good chance to come back and win the game.
Even more impressed than I was about the Nationals defense was Joe Morgan, who continuously threw kudos to both Guzman and Castilla. Morgan likes the Nats very much, calling them "The perfect blend of youth and experience." Thanks Joe!
The Nats won the series 2-1, and head to San Francisco for a three game series against the Giants.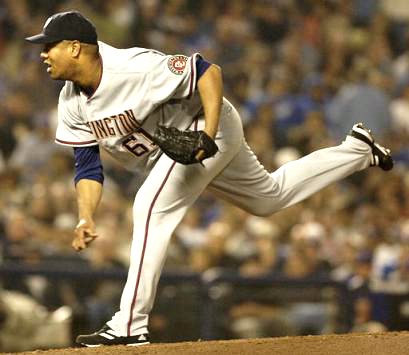 NATS NOTES:
Livan Hernandez pitched a complete game, although I think Frank took a chance in sending him back out for the 9th inning with 115 pitches under his belt ... Endy Chavez, "Inning Endy" to some of my blogging brethren, went 2-4 in his first game back with the team, and almost got a third hit on a bunt to the pitcher ... Jose Vidro came up a bit lame scoring on Castilla's double and was replaced by Jamie Carroll at 2nd; his status is unknown ... Christian Guzman looked as bad at the plate tonight as I've seen him all year ... Jeffrey Hammonds proved he belongs in the major leagues with a two hit performance too ... Nick Johnson looked very impressive hitting his homerun off of a tough lefty in Odalis Perez ... Livan's ERA is down around 4.00 now, and dropping each game he pitches