Guillen Goes Gone, Nats Dump Dodgers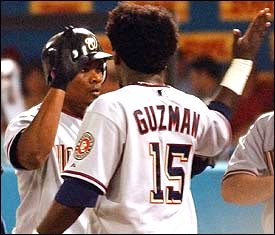 Boom Boom Jose
By the 6th inning, it looked like Esteban Loiaza was out of luck. Again. Allowing only one run on three hits, Loiaza pitched his second consecutive gem, yet it seemed he was going to go winless again. Things changed in a hurry, however.
Getting two runs in each of the last three innings, the Nationals jumped out to a 6-1 lead, and cruised to a 6-2 victory against the Dodgers at Chavez Ravine. Jose Guillen powered a two run homerun to deep centerfield, and Christian Guzman extended his hitting streak to ten games as he drove in two runs with a single in the 8th inning. He is now hitting .237, amazing considering where he was just one week ago.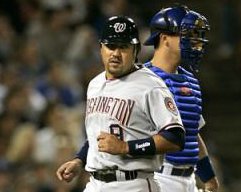 Vinny Castilla Scores On Baerga's Hit
The Nationals did all this after getting into Los Angeles at 5:30 this morning and sleeping only a few hours before heading to the ballpark to take care of business. The Dodgers had one of the best records in baseball, but that didn't seem to concern the Nats, who pounded out 13 hits in the game. Of some concern was Brad Wilkerson not getting any of them; he is now 0-20 and below .300 for the first time all season.