Jason Schmidt: Which Guy Will Show Up Today?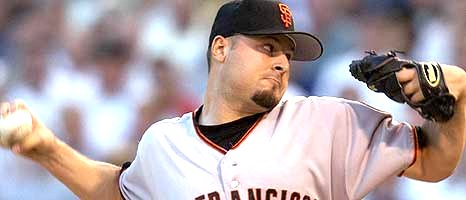 Schmidt Pitches Today
No question, since his trade from the Braves to the Pirates, Jason Schmidt has turned into one of the best pitchers in the National League. After his usual "lights out" start to the season, Schmidt has been Zach Day like in his numbers. In his last 25 innings, Schmidt is 0-1 with a ERA right at 5.00. In a recent interview on ESPN, the veteran pitcher didn't know why he was pitching so poorly, saying "My mechanics feel fine and my arm doesn't hurt. I guess it's just one of those stretches we all go through." Let's hope it continues one more start.
Schmidt has an overpowering fastball that tops at the mid 90's. He uses his hard slider as his out pitch. Schmidt's change keeps batters off balance, and is at his best when he jams batters inside.
You know you're team has a chance when: He has a high percentage of walks and begins to run up a high pitch total
Last Year: 18-7 with a 3.20 ERA and [ouch] 251 strikeouts with 77 walks. He gave up 18 home runs last year.
Jason Schmidt will either throw a shutout at the Nats, a team that does strikeout a lot, or we'll get to him in one big inning and give John Patterson another win.
We'll see.