Johnson Whacks, Church Smacks, Chief Saves The Day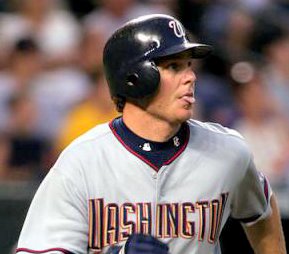 Brad Wilkerson Heading For Second
Nick Johnson and Ryan Church went deep for the Washington Nationals as the Beltway Boys withstood a Chad Tracy homerun and won their fourth game against the Diamondbacks this season, 4-3. Livan Hernandez pitched seven innings, giving up three runs on his way to his 5th win of the season. Hernandez walked a season high six batters.
The Nationals scored the first run of the game in the third when Brad Wilkerson doubled in Brian Schneider with two out. Chad Tracy's two run homerun in the seventh brought Arizona to within a single run of the Nats, and Shawn Green's deep fly ball scored Quentin McCracken from third to tie the game.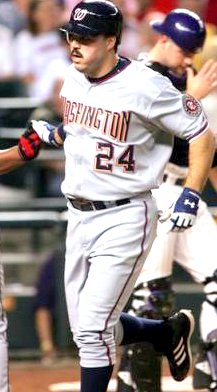 Washington went ahead for good in the 8th inning when Nick Johnson vaulted a long double to center field, scoring Jamie Carroll, who got another hit tonight in place of the injured Jose Vidro. The Nats could have done more damage in the 8th, but a Brian Schneider double play ended the inning with only the one run scoring. Chad Cordero, as he has been prone to do all year, allowed two men to get on base before getting pinch hitter Tony Clark to fly out to the warning track in the deepest part of center field.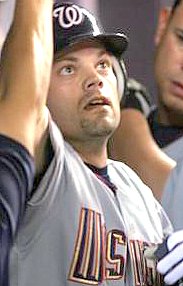 NATS NOTES
Just as Brad Wilkerson is again stroking the ball well, Vinny Castilla is not. Castilla, who just last week was in the top 10 in batting average, saw his average dip below .300 for the first time since the Kennedy administration ... Jamie Carroll continued his remarkable hitting performance by singling and scoring the winning run in the 8th inning ... Ryan Church will be impossible to supplant in centerfield [sorry Endy and Termel]. Finally free of having to look over his shoulder, he is making the most of his semi-permanent status by going 3 for 3 with a homerun. Church is now batting .302, with 3 homeruns and 13 RBIs ... Nick Johnson got three more hits and a homerun, raising his average to .333 ... I am again reminded of Jose Posada, who said earlier this spring that if he remained healthy, Nick Johnson would win a batting title sometime during his career ... Chad Cordero lowered his ERA to 0.59 ... the Expos were chided for picking a relief pitcher in the first round of the amateur draft ... in addition to Castilla, right fielder Jose Guillen had a quiet night, going 0-4 with a strikeout ... Tony Armas Jr. starts tomorrow night for the Nationals; if he pitches well this month, look for Day and or Ohka to be traded for middle relief.