Leaving Behind Crescent City, Claudio Vargas Chosen As Today's Starter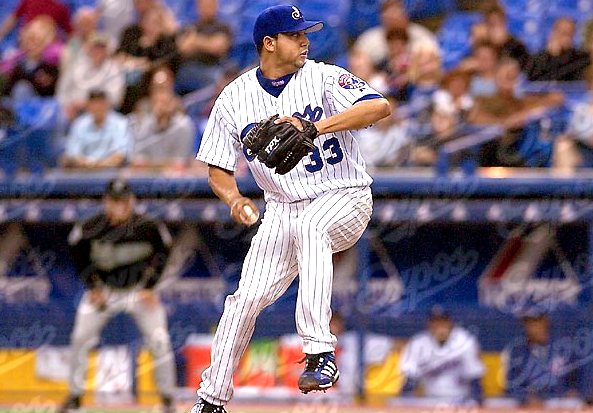 New National Claudio Vargas

First things first. This guy had better not wear #33 this year. That is Frank Howard's number, and the only person who should wear #33 again at RFK is Frank Howard in a Nats uniform. 'Nuff said.

The Nationals announced this morning that outfielder Endy Chavez was being returned to New Orleans in favor of 27 year old Dominican
Claudio Vargas
. Vargas joined the franchise in 2002 when he, Wilton Guerrero and Cliff Floyd came in a package that sent Carl Pavano, Graeme Lloyd and others to the Florida Marlins.
Vargas' career statistics add up to one full season, so we can draw some conclusions from his efforts thus far:
Games: 34 -- Innings: 232 -- Wins: 11 -- Losses: 13 -- ERA:4.80 -- Walks:105 --Strikeouts:151
One thing jumps out: 105 walks in 232 innings. Also, he is considered a power pitcher, with a fastball that can reach 97 mph, yet he only has 151 strikeouts.
Besides a sizzling fastball, Vargas has a strong curve and gets ahead in the count early in the atbat [I guess he must lose his concentration considering all those walks]. On the downside, he has a 7th inning wall the just can't seem to push past. Also, his fastball, while fast, is also straight. He has given up 42 homeruns in 232 innings. No that wasn't a misprint or a mistake. 42 homeruns in 232 innings. Livan Hernandez, who is considered a pitcher who gives up many homeruns, gave up only 26 in 255 innings in 2004.
So far this season, Vargas is 2-2 with an ERA of 4.18 at AAA
New Orleans
. In 23 innings, he has struck out 24 and walked 16, and has served up 6 homeruns. Vargas has reaffirmed at New Orleans what scouts have known for some time.
Vargas walks too many and gives up way to many home runs.
I have to wonder why Vargas was called up and not Sun Woo Kim, whose record in New Orleans has been amazing. Kim is 3-1 with an ERA of 2.59. In 33 innings, he has struck out 27 and walked only 10, while giving up only 2 homeruns.
Hopefully, Frank Robinson and Jim Bowden is seeing something that I am not.
We'll see.
Comments:
You somehow gave Vargas some of Chad Durbin's stats.
Vargas has 28IP, 35Ks, 12BB, and 4HR. Much more respectable.
(I'd still take Kim, but I have never liked Vargas)
Post a Comment
Links to this post:
<< Home