The Lights Are Bright ... On Broadway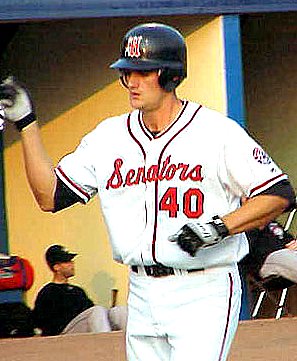 Nats Prospect Larry Broadway ... In A Senators
Uniform ... How Poetic :)
I'm sure that if you had a chance to chat with Nationals manager Frank Robinson and GM Jim Bowden last fall, they would have both admitted privately that they didn't see
Nick Johnson
as the team's long term solution at first base. One of those players whose "unlimited potential" never seemed to translate to on-field production, I think Bowden and Robinson were likely looking for some type of a stop-gap scenario until a certain lanky minor league first baseman was ready to take over.
Now what?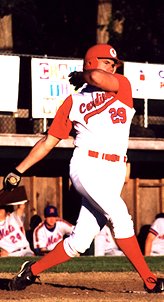 In the Cape Cod league, 2000
Scouting Report:
Larry Broadway
is listed as the #2 prospect in the Nationals minor league system. Like most of the players the team has recently drafted, he became an Expo/National because the rest of the teams saw a flaw so glaring that he dropped to a draft slot that the franchise could afford.
[The Seattle Mariners were cash-strapped in the late 1970s and didn't think they could sign their pick, the #1 in the nation. So, they signed someone they could afford, outfielder Al Chambers, and let Kirk Gibson go to the Tigers. It wasn't until Seattle had a real owner that the M's became a real MLB franchise]
Broadway was a pitcher in high school, but nerve damage in his elbow turned him into a first baseman by the time he reached Duke University. He started slowly, hitting .138 his freshman year, but he became a fine college hitter his last three years.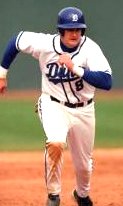 Blue Devil Larry
Read an interesting article written about Broadway while at Duke in Baseball America
here
.
However,
ESPN
reported that he was considered
"erratic"
by the scouts. That, and a perceived lack of power for his position, dropped him to an affordable 3rd round selection by the Expos. His pro career has been an absolute success since his first at bat with the Vermont Expos in 2002:
During his "A" ball career he averaged .296 with 19 home runs and 81 RBIs in 477 at bats. Broadway had a .389 OBP and a .503 SLG average. He did just as well during his time in "AA," hiting .277 with 27 home runs and 90 RBIs in about 500 at bats. He maintained good on base and slugging percentages, hitting .363 and .465 respectively
Health Concerns:
Broadway, outside of nerve damage in his throwing arm in high school, has been relatively free of injuries and other physical infirmities that might be a problem during the course of a career. Minor back problems have cut short his 2002 year, but he's had a clean bill of health since.
Offense:
Larry Broadway has shown that he is able to hit to all fields with power. He can pull the ball when he wants, but he can just as easily slap a slider down the left field line for a double. He tends to strikeout, but no more than any other prototypical power hitting first sacker. His plate discipline is
above average,
according to ESPN.com. At this stage in his career, Broadway has what scouts call "plus" power. This, plus the many tape-measure home runs he has already hit, indicates consistent 30+ home run power as a major leaguer. There are still some prominent holes in his swing according to a scout from the Reds organization. He is easily jammed at this point in his career, and will likely be the slowest person on any team he plays for. One of the most positive aspects of Broadway's talent is his ability to hit left-handers, meaning he won't be a platoon type player in the mold of Mike Epstein [my generation] or Ryan Klesko [more recently]. He is most often compared with Orioles outfielder
Jay Gibbons.
Defense:
Scouts indicate that Broadway has a strong arm, strong enough to play a corner outfield position if forced to by game conditions. He is very slow and has limited range. That said, he makes the most of his limited strengths as he was named the outstanding defensive first baseman in the Eastern League in 2004.
MLB Future:
Bryan Brown said at MLB.com that Broadway will be an "ol boy" first baseman with power. How much? Brown says he's going to have Fred McGriff power, averaging 30+ home runs per year.
It is too early to say whether Nick Johnson has finally cast aside his physical problems and will become the long-term answer for the Nationals. Regardless of Broadway's minor league gold glove and overall "potential," Johnson is today [in my estimation] the premier defensive first baseman in the National League. Yes, I think Broadway will end up having more power than Johnson, but Nick's combination of defense, hitting for average, hitting for adequate power, his ability to take pitchers deep into the count and draw a lot of walks makes him the ideal first baseman for the "Beltway Boys."
If Johnson proves himself this year, look for Bowden to try to sign him to a long term contract the way Jim Hart did with his young stars in Cleveland a decade go. Broadway, especially if he does well in New Orleans this season, would become excellent trade-bait -- perhaps Broadway, Termel Sledge or Endy Chavez or Ryan Church,
and
Zach Day in a trade that would bring a big time center fielder to RFK next year.
If Johnson falls apart this year, then all bets are off. I'd guess Robinson would run out of patience with his burly first baseman, and would trade Nick, bring in a "Julio Franco" type of seasoned first baseman to be available if Broadway falters in the beginning of the 2006 season.
Either way, my prediction for the average of Larry Broadway's first ten major league seasons:
Average: .272 -- Homeruns: 31 -- RBI's: 88 -- Walks: 87 -- Strikeouts: 121 -- OBP: .363 -- SLG: .456
Fred McGriff, reincarnate. The question: where will he call home?