Ryans Hope: Church Makes Most Of Opportunity in 9-3 Rout of Giants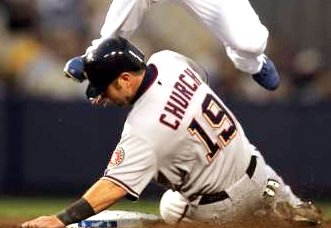 Ryan Church's Double Breaks Game Open
Ryan Church was the Nationals silver lining in the dark cloud that was Jose Guillen's injury. Church, who replaced Guillen after being hit in the left elbow by an errant 93 mph fastball, came to the plate in the 8th inning with the Nats ahead 6-3. One swing later, the bases were clear and the Beltway Boys had blown the game open. Guillen was taken to a local hospital for testing; no information is available as to his condition.
Tomo Ohka again had control problems, walking three in four innings. Ohka looked so shaky that manager Frank Robinson removed him after the fourth inning while leading 4-3. John Rauch came in and shut the Giants down for three innings before giving way to Luis Ayala in the 8th, and Chad Cordero in the 9th. Cordero again allowed several base runners, but shut the door before any Giants could score.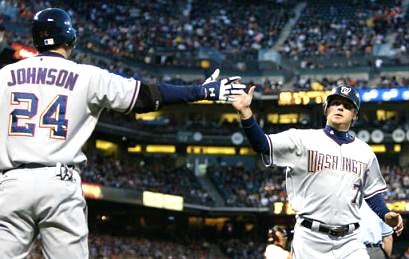 The Nationals offense again shined, knocking out 11 hits and drawing 7 walks. Brad Wilkerson broke out of his slump with a 3-4 night, and Nick Johnson also got 2 hits.
NATS NOTES:

Jose Vidro turned his ankle while circling the bases on Vinny Castilla's double against the Dodgers Wednesday, and will miss the next 4-5 games, making the possibility of Jose Guillen being injured more disconcerting ... Jamie Carroll attempted a suicide squeeze with the bases loaded but the Giants got the runner at home for the out ... Gary Barnett, again making the best of limited playing time, doubled down the right field line to score the first Nationals run of the game