Somewhere Between Coogan's Bluff And Candlestick Point, The Giants Lost My Respect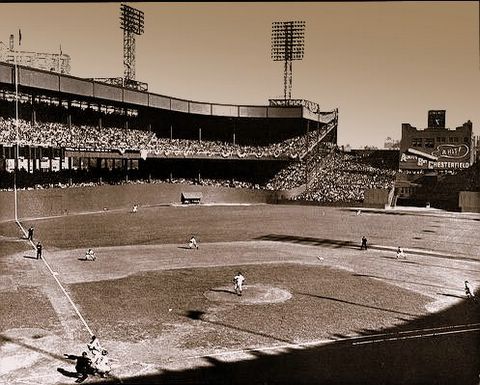 The Polo Grounds, New York City
I'm not old enough to remember the westward expansion of major league baseball in 1958, when two-thirds of New York City's professional baseball teams followed the Pioneers of a century before and found there way to California. But I am old enough to remember how it feels to have something that was part of you since birth ripped away in a thoughtless and selfish manner.
Both the Dodgers and the Giants were viable New York franchises. The O'Malleys and Stonehams were simply greedy and wanted more than New York was willing to offer. The Stoneham family said they were helping baseball to become a truly national pastime by opening the west coast to the sport. Right. Expansion teams could have been placed in Los Angeles and San Francisco. No. They wanted more green than New York could offer.
The Giants played in
Seals Stadium
, the home of the Pacific Coast League San Francisco Seals, for three years before moving into their Permanent Home,
Candlestick Park
, located at windy and blustery Candlestick Point.
Stoneham constantly complained that the Polo Grounds was a terrible place to watch a ballgame, and he required a new stadium to remain competitive with the Yankees and Dodgers. Cities, however, didn't build stadiums for professional sports teams at this time. That is, until San Francisco promised to do so. The O'Malley family, in fact,
built
the last fully privately financed stadium in Los Angeles, Dodger Stadium, but the city of San Francisco began the trend of "We will build it if you come."
San Francisco
never
had a love affair with the Giants; they simply had a ballclub. As it turned out, Candlestick was probably a worse place to watch a ball game than the Polo Grounds. Each attempt to exand it and make it better only made it worse.
The franchise has had nowhere near the success it had in New York, and has always been a
"second citizen"
to the Dodgers. Interestingly, Horace Stoneham had first choice of where to place his franchise, and he chose San Francisco over Los Angeles.
I don't like the Giants because they have the same history of the Texas Rangers; a greedy owner who moved his team with no concern for the fans, only his pocket. Which team has more value today, the Giants or the team that replaced them in New York, the Mets? It's not even close. With the advent of the new ball park in San Francisco, things are better, but I doubt the city by the bay will ever understand what it was like to grab a dog and a beer, and sit in the shadows of Coogan's Bluff and, for a few hours anyway, lose yourself from the hustle and bustle of the world's greatest city. No. They'll never understand.