These Are Not Your Father's Giants: No McCoveys, Mays, Marichals in Sight. Nats Look To Troll McCovey Cove For Wins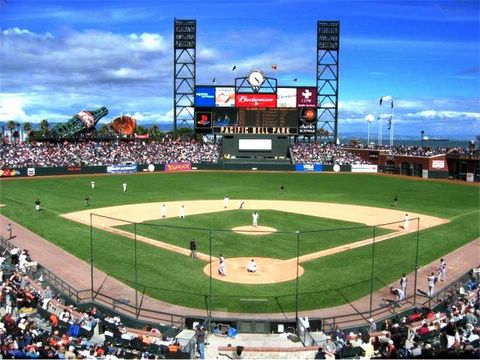 A Park By Any Other Name...
The Giants aren't going to win the upcoming weekend series against the Nationals without Barry Bonds, and that's not just a
"Knee - Jerk"
reaction. The Jerk's knee is bad, and he is more than just a bat in the Giants lineup, he is the soul of the team.
The Nationals have a better record heading into tonight's game against Giant pitcher Noah Lowry. Let's look at the Giants lineup:
1B]
J.T. Snow
-- Hitting .338, but with no power numbers
2B]
Ray Durham
-- The shadows are getting longer on his career as his .228 average indicates
SS]
Omar Vizquel
-- Hitting well and fielding better, but at 38, how long can this last?
3B]
Edgar Alfonzo
-- .337 with 16 RBIs -- again, good now but can he keep it up?
LF]
Pedro Feliz
-- .301 with 5 home runs. Finally, a fairly young player [30] doing a good job
CF]
Marquis Grissom
-- .214 with power numbers even worse
RF]
Moises Alou
-- Good average but no run production
C ]
Mike Matheney
-- Put it this way: they'd trade for Schneider in a hearbeat
There is not a
single
player under the age of 30 in this lineup, and five of the eight are well past their prime. This is not a lineup that will survive up under the hot August sun.
Noah Lowry
Noah Lowry
is pitching for the Giants tonight. The 25 year old has a record of 1-2 with an ERA of 5.60, with 18 strikeouts and 15 walks in 27 innings. I've tried to find a positive within his numbers, and can't find one.
Regardless of their record, the Giants are a
bad team
. I know, J.T. Snow and Edgardo Alfonzo are whacking the ball, buts its early. Each day that passes, their eight 30+ year old starters get a day older and less able to turn on a fastball. Only Feliz is as the point of his career where he can improve with playing time, and even he is 30.
When the Nationals lineup is compared with the Giants, San Francisco's problems seem magnified. The only Giant positional player that I might,
might
take over a Nat is shortstop, and that is only because Visquel is such an outstanding defensive player. His age, however, negates that advantage.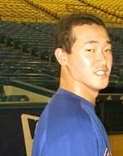 Tomo Ohka
goes for Washington tonight, and pitches his most important game of the year. Will he continue to build on the corrections he and pitching coach Randy St. Claire made 10 days ago, or will he revert back to the form that caused manager Frank Robinson to value him less than Zach Day. And that aint saying much.
Talk to you after the game.