Troy Boy Whacks Tony II, Plays Wall Ball At Bob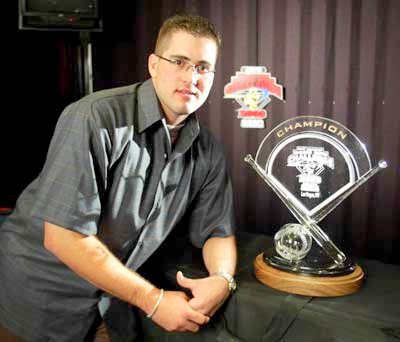 Diamondback Troy
The Washington Nationals lost Tuesday night to the Arizona Diamondbacks 13-3. Tony Armas made a spectacular comeback from a pulled hamstring, pitching into the sixth inning before control problems began to take its to.....
Excuse me? What did you say? The Nats lost 3-2 and not 13-3? Oh, my reader friend, you're right of course, but also so very, very wrong.
When the last out was made in the 9th inning by
Endy Chavez
, the 13th and final runner was left on base. The Nationals continued their torrid hot streak with the bat, again gaining double-digit hits. The team also received 3 walks.
No, dear reader, the Nats surely lost 13-3.
Tony Armas
was stupendous. Tremendous. If you like, add in any other superlative that ends with "ous." Magnanimous? Nah. Not that one. Anyway, through the first five innings, Armas had given up a total of two hits. After walking
Craig Counsell
to open the game, he proceeded to mow down the next dozen Diamondbacks. He was amazing. Frank Robinson heaped praise on Armas throughout the post game interviews, saying that Armas was "in complete command of his pitches and location after that first batter. I'm really happy with his performance tonight."
NATS NOTES:
Brad Wilkerson had two hits and pushed his average well into the .300 range again .... Jamie Carroll got another hit, although he saw his average to "plummet" all the way to .381 .... Vinny Castilla got his bat going again with two hits .... Nick Johnson also got two hits; he's now hitting .336 and I feel bad that I didn't think he was capable of being an everyday first baseman .... Endy Chavez must have whiplash - after just 10 games, he was returned to the crescent city, New Orleans .... Claudio Vargas took his place