Vargas Vindicates Robinson's Trust, Loss Lessened by Quality Effort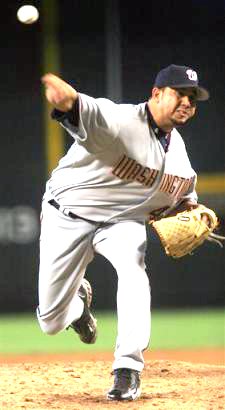 The Winner In Tonights Game: The Nats
The Washington Nationals have lost two games in a row, and I couldn't be happier. By dropping back to back 3-2 contests, the Nationals have slipped back with two games of the .500 mark. I say:
Way to go boys -- keep it up!
The Nats arn't in contention for the pennant or a wild card berth, so wins and losses are less important than making positive strides towards 2008, the year we contend for the title [of course, that's just a "ballpark" estimate]. Until then the job of manager Frank Robinson is to be competitive, win as many games as they can while testing players and lineups to see who, and which, works best.
That's happened the last two nights.
Livan Hernandez has been "lights out" as a member of the starting rotation. Esteban Loiaza goes to the mound and gives the Nats a chance to win with every pitch. John Patterson has shown himself to be a quality #2 or 3 man in any team's rotation. That left Tomo Ohka and Zach Day to man the last two rotation slots, but they simply haven't produced. The difference between an 85 win Nationals team and a 72 win Nationals team are those last two rotation slots.
Enter Tony Armas Jr & Claudio Vargas.
Combine their efforts and see the potential:
INNINGS: 12 -- HITS:9 -- EARNED RUNS: 3 -- WALKS: 3 -- STRIKEOUTS: 5 --ERA:2.20

This comes from the fourth and fifth slots in the rotation.
It doesn't matter that the Nationals lost these last two games. They ended the hardest road trip of the season with a 5-4 record. They now own the best batting average in the league and the 6th best ERA. We could have just as easily won both of these games, but by getting quality efforts by Tony Armas Jr. and Claudio Vargas, we really did win.
It's going to be some year.