Be Brave Nats Fans, But Here Comes Atlanta, and Boy Are They Mad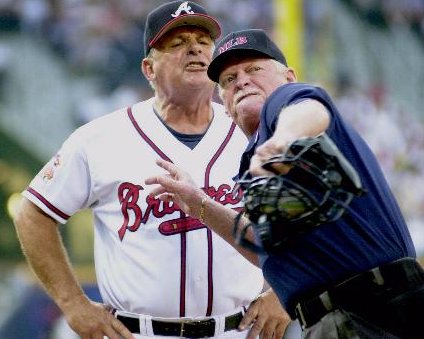 . [June 25th] For the past several weeks, as the Washington Nationals continued to not only hold but expand its first place lead in the National League East, all eyes have been looking forward, trying to see what opponents, what injuries, what problems lay ahead for a team never used to being if first place. Message to the Nationals: It's time to start looking back. In the words of Satchel Paige, "someone might be gaining on you."
The Philadelphia Phillies kept pace with the Nationals during their home winning streak 10 days ago, but their fell flat on their last road trip and are now 4.5 games behind the still surging Nats. They recently lost their most consistent pitcher, Randy Wolf, to Tommy John surgery that will sideline him for the better parts of the next two season. The Florida Marlins, just a year removed from their championship, are suffering from bat malaise, especially Juan Pierre and Mike Lowell. The clubhouse atmosphere is toxic and Al Leiter's position in the rotation is very very iffy. The Marlins are 5.5 games out. The New York Mets spent a lot of money, but put the cash into only 2 players. While Pedro Martinez is "light's out," Carlos Beltran, to this point in the season at least, is just an above average player. The rest of the pitching staff and most of the offensive lineup is iffy. They are 7 games out of first. Did I forget to mention anyone?
Going into the 2005 season, the whispers that "this was the year that the Braves would finally lose their dominance" in the NL East were more audible, and two weeks ago, they were darn near shouts of joy throughout the eastern NL cities. Anyone who thinks the Nationals were the team most decimated by injuries need only glance southward along I-95. The Braves have more stars on the disabled list than the Nationals have stars. Atlanta's three best starting pitchers, Mike Hampton, Justin Thompson and Tim Hudson, all former all-stars, sit on the DL bench, waiting for their chance to play again. Chipper Jones, "Mr. Brave," is on the DL with a recurring foot injury. Backup catcher Eddie Perez is also disabled. So what the Braves DL lacks in quantity it more than makes up for in quality. Two weeks ago, the Braves were so bereft of breathing veteran players that they started seven [7] rookies in one game. Do the math: that means that only 2 players that night were playing in the bigs last year. Yet through all of this, even to the point of the team making the players wear "Hi, my name is..." tags, the Braves are gaining on the Nationals. Ten days ago, the Braves were 5 games behind the division leading Nationals. Today, with no starting rotation to speak of, they've gained a full game, even though the Nats have gone 6-4 during that time.
This is the point in the season where the Braves kick it into a gear that no other team has and z-o-o-m-s past everyone else into first place. The question must be asked, then: Can they do it again? Are the Nationals for real or will they simply be used as traction fodder for the oversized tires of the Big Braves Machine? Let's take a look.
1B]Adam LaRoche [projected 2005 stats] .254-19-98
LaRoche has improved from his rookie year in 2004, and is providing additional "sock" that was missing from 1st base last season. However, his OBP is only .313 and his SLG is .440, on the low edge of "ok" for a first baseman. * * IMPROVEMENT OVER 2004 * *
2B]Marcus Giles [projected 2005 stats] .284-14-49
Giles is becoming very consistent, and his 2005 numbers will be about where his 2004 stats were, although his OBP and SLG are somewhat lower. * * SAME AS LAST YEAR * *
SS]Rafael Furcal [projected 2005 stats] .222-11-55
Oh, where have you gone, Rafael? He's simply not the same player that he was last year. How bad is it? His OBP is .280 and his SLG is .344, both horrible numbers for a veteran like Furcal. His fielding hasn't been as sharp either. * * NOT AS GOOD AS LAST YEAR * *
3B]Chipper Jones [projected 2005 stats] .282-20-74
These down numbers are injury related for sure, but this is the 2nd down year in a row for Chipper. His OBP and SLG are fine, but Chipper needs to produce taters for the Braves to zoom past the competition this year. * * NOT AS GOOD AS LAST YEAR * *
LF]Kelly Johnson [projected 2005 stats] .243-16-73
Johnson has come out of nowhere and begun to produce some good power numbers. His OBP is .369, outstanding for a rookie. Each game, he gets better and more comfortable at the plate. While Johnson isn't as good as the tandem of Charles Johnson and Eli Marrero of 2004, by the end of the season, he will be. * * AS GOOD AS LAST YEAR * *
CF]Andruw Jones [projected 2005 stats] .269-49-112
Of course, Jones is unconscious right now. It looks like he's finally starting to become the player the Braves organization believed he would be for the past decade. Tremendous .575 SLG with decent .344 OBP. * * BETTER THAN LAST YEAR * *
RF]Brian Jordan [projected 2005 stats] .241-5-56 / Ryan Langerhans [.241-16-61]
Look, these guys aren't coming close to J.D. Drew's production last year. Langerhans will be a fixture in the outfield for years to come, but his .313 OBP and 100+ strikeouts make his talents more of a wash than a plus for 2005. * * WORSE THAN LAST YEAR * *
C]Johnny Estrada [projected 2005 stats] .275-8-77
Estrada is duplicating his 2004 rookie year pretty well, although his batting average and OBP had dipped significantly. Still, he's doing a good job. * * WORSE THAN LAST YEAR * *
The pitching staff is hard to compare because of the Breaves having 60% of the rotation on the disabled list. However, John Smoltz is on track to win 16 games with a 2.88, and Horacio Ramirez should end up with about 13 wins, although is 5.04 ERA is a real liability for the team. Justin Thompson has an ERA of 3.42, Tim Hudson 3.78 and Mike Hampton 1.83. Their replacements are Jorge Sosa [3-1, 2.97] and Kyle Davies [3-2, 4.75].
So, what does this all mean? It's hard to tell.
Of the position players, when compared to last year, two are playing better than last year, two are about as good as last year, and four are playing below 2004 levels. The pitching would have been much better had the injuries not occurred, but the replacements, Sosa and Davies, are doing pretty well in holding down the fort until the "big boys" return.
Andruw Jones has been carrying the Braves for the past three weeks, and his hot streak has made for a nice story, but count on the fact that it's going to end soon, and Andruw will again become that nice hitting, great fielding centerfielder that we know and love. Chipper's return will take up some of that slack, but let's face it: Jones hasn't put together one of those "monster" seasons since 2001 when he hit .330-38-102. Since then, he's produced more in the area of .315-24-100, good numbers but not big enough to make a large difference when he returns.
If the big 3 pitchers on the disabled list come back and continue to pitch before they were hurt, if Andruw Jones continues his record pace, if Chipper comes back and increases his production, if Ryan Langerhans and Kelly Johnson continue to improve as rookies, if Rafael Furcal decides he doesn't want to be lumped with Cristian Guzman as "largest disappointments" for 2005, if no other players go on the DL, If Dan Kolb finds his way back from his own little private world, then yes, the Braves should and likely will z-o-o-m past the Nationals and take their rightful place atop the NL East. But what's the chance of all 10 "has to happens" actually happening? That's a tough accomplishment.
All of this also assumes that the Nationals don't get any better. At current pace, the Nats will win 95 games, the Braves 86. Adding Jose Vidro negates Chipper Jones' return for the Braves. And remember this one very important fact: Atlanta management has repeatedly emphatically that they don't have ANY MONEY to spend for the rest of the year. Zero. Nada. Bupkus. The Nationals, however, have at least $3 million, and maybe much more to spend on talent this year. Major League Baseball, who owns the Nationals, initially had no desire to invest a single penny into the team for 2005 until they saw how the Nationals first place position has raised the selling price of the team. A few more dollars invested could win at least a wild-card, which in turn would make the team even more valuable. A very good investment for MLB.
No question, the Atlanta Braves have all the tools to restock their team with young players ready to go today. The Nationals minor league system is like a grocery store in the old Soviet Union. In two years, LaRoche, Estrada, Giles, Jones, Langerhans, Johnson AND Andruw will all be all-star type players. They very well may be restocking for another run of 14 consecutive pennants. If the Braves in fact do have a soft underbelly, this would be the year that it shows. The Mets can't supplant the Braves as best in the east. Neither can the Marlins. If the Phillies find another arm and Thome gets very, very hot, they might. And the Nationals? Well, the Nationals are the team to beat in the NL East right now, not the Braves.
It should be an interesting summer.