Fogg Rolls In To RFK, Nats Pirate Win From Pittsburgh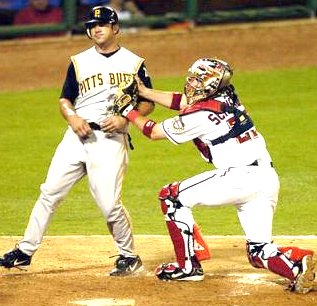 [June 28th] - It seems strange considering that Tuesday's game was only the 76th of the season, but it was a "must win" for the Nationals. After a loss to the Blue Jays Sunday afternoon, Washington had to prove they could quickly and effortlessly get back on the winning track. Even though the team has gone 8-5 during its last 13 games, it has seen its lead shrink from 5 games ahead of the Phillies to 2.5 games ahead of the streaking Braves, who whacked Dontrelle Willis and the Florida Marlins for yet another win tonight. A Nationals loss and the Braves would have been only 1.5 games behind the Nationals, and Atlanta would have begun to slowly circle the Nationals, sniffing for that first whiff of blood in the water. Not tonight, boys.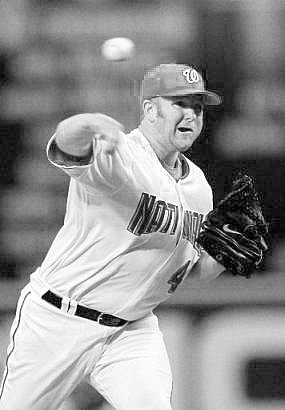 Forget Ryan Drese's numbers with the AL Texas Rangers. After three games Drese has proven he will be able to get the job done for the Nationals. Look at these numbers for the newest National:
Games: 3 ... Innings:19 ... Hits:15 ... Runs:6 ... Walks:6 ... Strikeouts:10 ... ERA:2.84
Ryan Drese has had one bad outing and two outstanding ones. I'd say that averages out to a very good job overall. How's he doing compared to the Brewers' Tomo Ohka?
Games: 3 ... Innings:20 ... Hits:25 ... Runs:9 ... Walks:1 ... Strikeouts:14 ... ERA:4.05
In a convoluted way, the Nationals traded Ryan Drese for Tomo Ohka and got Junior Spivey for nothing. Drese has outpitched Ohka thus far and Spivey has given the Nationals a much needed professional second baseman to play until Vidro returns.
Pirate Josh Fogg pitched well too, giving up 2 runs over 6 innings, allowing 4 hits and 1 walk while striking out 4. He was staked to a 1-0 lead in the first inning, and kept it until the 4th inning, when he hit Jose Guillen and walked Vinny Castilla. Marlon Byrd tried to bunt the runners along, but popped the ball up along the 3rd base line. It came to rest by the feet of Josh Fogg, who tried to force Guillen at third. Oops. The ball bounced into short left field and Guillen scurried home with the Nationals first run. Moments later, Wil Cordero made an out, which isn't a surprise, but it was a productive one as his sacrifice fly scored Vinny Castilla. That ended up being the final score of the game, 2-1 Nationals.
NATS NOTES: Ryan Church and Nick Johnson were unable to play Tuesday night, but Jose Guillen, who was supposed to be out 3-7 games with a sore shoulder, played and went 1-3 ...note to rest of team: Be more like Guillen ... Cristian Guzman went 0-3 and for the umpteenth time this year slipped below the Mendoza line ... Vinny Castilla went 0-3 and continued to show signs of his "tired bat" as described by manager Frank Robinson ... Chad Cordero saved his league leading 26th game and lowered is ERA to 0.92