George Soros & The Nationals: It's Not Just Me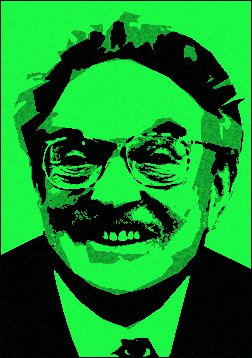 [June 27th] - A few weeks ago, George Soros announced that he would be part of a financial group seeking to purchase the Washington Nationals from Major League Baseball. I angrily wrote that if Soros was in any way connected with the Nats, I would again become a Braves fan. I said that it wasn't a "Republican vs Democrat" thing. Bill Clinton, Al Gore, even John Kerry could buy this team and I would support them as owners. It's not that he's a liberal, it's how he's a liberal, using groups such as Moveon.org to act in ways that is not in the best interests of this country. I received several replies on my sight, one connecting conservatives to Nazism.
Well folks, it not just me. Read the following excerpt from a national internet site regarding George Soros as a prospective owner of Washington's baseball team. It should be noted that while this story is a Republican response to Soros, several Democrats have quietly suggested that perhaps Mr. Soros is a little to much of a lightning rod for a politically benign entity such as a baseball team.
Republicans Suggest Backlash Against Baseball If Soros Group Wins Bid To Buy Nationals [Mon Jun 27 2005 09:51:22 ET]
"Despite the Washington Nationals' successful start to the season, to some Capitol Hill Republicans there is a dark cloud on the Nats' horizon: the potential that their newly adopted home team could be purchased by billionaire financier George Soros! Soros has joined an ownership bid being led by entrepreneur Jonathan Ledecky that is angling to take over the Nats, who are currently owned by Major League Baseball. ROLL CALL reports: Soros pumped more than $20 million in the last cycle into groups seeking to unseat President Bush and elect Democrats and relates that the very prospect that Soros could have a stake in the team is enough to irritate Congressional Republicans. "I think Major League Baseball understands the stakes," said Government Reform Chairman Tom Davis (R), who recently convened high-profile steroid hearings.Davis said that if a Soros sale went through, "I don't think it's the Nats that get hurt. I think it's Major League Baseball that gets hurt. They enjoy all sorts of exemptions' from anti-trust laws. Rep. John Sweeney (R-N.Y.), vice chairman of the Appropriations subcommittee that covers the District of Columbia budget, said if Soros buys the team and seeks public funding for a new stadium or anything else, the GOP attitude would be, "Let him pay for it."
I'm not suggesting that I like the innuendo of hostilities coming form Republican leaders. But it is expected. Soros has maintained a "trash and burn" political style which has polarized both sides of the spectrum. The folks at Major League Baseball needs to be very careful when choosing the new owner for the first place Nationals.
************************************************************************************* Monday evening update: I received a reply on this story from reader "Scott," who believed that my concerns about George Soros and his possible ownership of the Nationals were "absurd" and Scott informed that he will never read my blog again.
Thank you Scott; you proved my point. Obviously, Scott has been a regular reader of my blog, but once my site became something he no longer wanted to support, he changed allegiances and will get his information somewhere else. I, on the other hand, said that if the Nationals turn into something that I don't like, I would stop supporting them. Scott is angry at my "absurd" position, yet he did to me exactly what I threatened to do to a Soros led Nationals team. All of us have a choice in the marketplace, whether is it the marketplace of ideas or blogs or baseball teams. It would be wrong of me to support a team whose owner I so disagree with, just as Scott made that choice regarding me. Thanks Scott. We're really both on the same page here. We'll miss you.
*************************************************************************************
Comments:
Well, I have to sincerely and strongly disagree here. Yes, George Soros donates heavily to Democratic interest groups. That is the main reason why the Republicans oppose him, not for any specific tactics and not for anything he has done personally. This is akin to the Grover Norquist project, in which K Street lobby groups were told that if they had voting Democrats in their ranks, they would not get the attention of Republican members of Congress. Not that those Democrats were bad people, or that Republicans disagreed with them on the specific issues that they lobbied for. Just that they were Democrats. George Soros has donated to moveon.org and other groups that have made gross mistakes (in my opinion) in tactics. So have Bill Clinton and Al Gore and Vernon Jordan, who is part of another buyers group. The difference is that Soros donated more money. Much more. That's because he has more money. That he a lot of money that he gives to Democrats is why Republicans don't like him.
He has given a lot (by my standards) of money to Democratic interest groups. What he has given much more money to is Eastern European NGOs. Much more. In fact, more than a quarter of his fortune has been donated to building hospitals and school and universities and shelters and economic infratructure and museums and orphanages in Eastern Europe. That, during a period when this country, under Presidents Clinton and Bush decided to completely ignore the devastation in that part of the world caused by the fall of communism, in part because they had no significant interest group here in the States promoting them. When compared to that philanthopy, Soros' donations to left-leaning interest groups are a drop in the bucket of how Soros chooses to give away his hard-earned cash, not a cent of which was inherited or earned unscrupulously.
Now, none of his donations to left-leaning interest groups disqualify him as an MLB owner, and none of his philanthropy would make him a good one. So I see no reason to judge him or the Washington Nationals on those criteria. I don't think your position is "absurd," but I do think it is ill-conceived. I don't think George Soros will be asking his players to hit only to left field, and I doubt he'll have a giant donkey painted on the infield grass.
That all being said, I have every intention of continuing to read your blog. Indeed, I write this in the hopes that you will change your mind and remain a fan even if Soros is part of the new owner's group, and continue providing this invaluable service.
Post a Comment
Links to this post:
<< Home