Josh Towers Vs Esteban Loiaza Tonight At RFK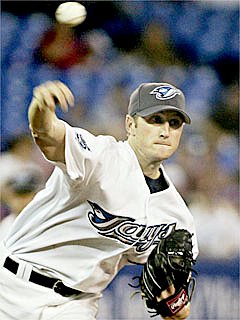 [June 24th] The bad news is that the Toronto Blue Jays come into Robert F. Kennedy Memorial Stadium on a difinitive high, having just won three out of four games from the suddenly struggling Baltimore Orioles. The good news is that the Blue Jays spent their magic bullet Thursday against the Orioles, one Roy Halliday. The Blue Jays have won 37 games this year, and Halliday has won 30% of them. The last time the Nationals faced the Blue Jays, Halliday was the difference, beating Washington 7-0 earlier this season. Without him, the Blue Jays are 26-32, a very sub-par team. The Nats will face Josh Towers Friday, Ted Lilly Saturday and probably Gustavo Chacin on Sunday, all very winnable games.
FRIDAY MATCHUP: Esteban Loiaza vs. Josh Towers
Esteban says he is feeling much better and doesn't think his stiff neck will be an issue Friday night. For the season, Loiaza is 2-5 [bad] with a 3.87 ERA [good]. Esteban is still second in the major leagues in lowest run support for a starting pitcher, hence the good ERA and the bad won-loss record. Don't worry about him, though. He'll come through for the Nationals.
Josh Towers: Age: 28 -- Drafted by: Baltimore [15th round, signed as free agent by Blue Jays in 2003]. Throws: Right -- Bats: Right
Towers has four pitches and throws none of them very hard. What he does is throw strikes all game long. His fastball barely reaches 90mph on a good day. Towers is a competitor who isn't afriad to push hitters around with his location. If his curveball is on, you're in trouble as a team. If he is having trouble with curve location, Towers is going to get whacked around very hard. He gives up too many hits, but doesn't walk many. He has a career 30-29 record with a 4.88 ERA.
Towers has pitched poorly his last six games, dating back to his loss to the Nationals. In 31 innings, he has given up 50 hits and 27 runs while striking out 16 and walking 11. Over those six games, Towers have averaged only 5.2 innings per start, giving up 8 hits and 5 runs per start. He has a 7.75 ERA over those last six games.
Helping Towers is the fact that he is on the road and playing at night. Josh is 3-3 away from Toronto with a 4.26 ERA. At night, he is 4-2 with a 4.01 ERA. So without question, he is better away from the Rogers Centre.
Hopefully, the RFK magic will continue a little longer. The Nats could easily win 2 out of 3 and further pad their lead in the NL East. Of course, that's what we said the last time these two teams met.
Nats Notes for Friday, June 24th:
Nationals lead the major leagues in come from behind victories with 27 ... the just completed 5-4 road trip saw the team increase their lead in the NL East from 1.5 games to 2.5 games ... Washington has a string of 10 straight home wins going into tonight's game ... the home winning percentage of .727 leads the major leagues, the White Sox are 2nd ... the last home series the Nationals lost was April 25-27 against the Phillies ... the Nats are 15-5 in June and are only 5 games off the franchise record for wins in the month ... half of all Nationals games played since May 8th have been decided by one run ... Washington leads the major leagues with one run victories, San Diego is second ... 13 of 17 saves by the "Chief" have been one run varieties ... his 1.00 ERA is the best of all the closers in the major leagues ... the Nationals are 10-5 in interleague competition.