Lloyd McClendon Should Have Listened To Himself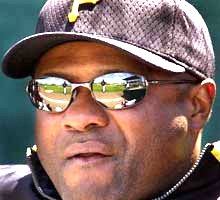 A week ago, the Washington Nationals swept into PNC Park in Pittsburgh and took 2 out of 3 games to take the series. It wasn't difficult to figure out how the Nationals did it. It was Jose Guillen. In the three games, the Washington right fielder went 8 for 14 with 6 homers and 6 RBI's. Following the final game, Pirates manager Lloyd McClendon said that his team should never have allowed Jose Guillen to beat the Pirates. "He played for us, he began here," said McClendon, adding "if anyone knows his strengths and weaknesses, it's us. And we should never have allowed him to beat us."
The Pirates kept an injured Guillen in check Tuesday, holding him to a single in 3 at bats. McClendon reminded his pitchers not to let Guillen beat them. They tried.


With a runner on first and two out, McClendon walked Jose Guillen. That worked. With the bases loaded, Guillen was walked again. That didn't work quite so well. In the 8th inning, Carlos Baerga singled and Brad Wilkerson walked, bringing Jose Guillen to the plate. Jose juiced a Solomon Torres pitch deep but foul. McClendon came out to the mound and reminded the veteran pitcher than the Pirates weren't going to get beat by Jose Guillen again. Before McClendon could get comfortable on the bench, Guillen smoked a line drive towards third baseman Rob Mackowiak that bounced off his glove and rolled into foul territory, scoring Baerga from second base, giving the Nats the lead 3-2. Chad Cordero came in the 9th and recorded his 27th save, lowering his ERA to 0.89, which seems more a misprint than an earned run average.
It was a tough evening for me. I was watching the Braves - Marlins game on tv, and the Marlins kept getting runners in scoring position all night but couldn't score. I was listening to the Nats on radio, and Washington kept allowing Pirate runners to get into scoring position all night. A loss here and a win there, and the Nationals divisional lead would be down to just 1.5 games. Luckily, the Marlins withstood another Andruw Jones home run, and Jose Guillen befuddled Lloyd McClendon yet again, and this morning finds the Washington Nationals with a 3.5 game lead over the 2nd place Braves once again.
John Patterson's fate should have been much better. He had a runner on 3rd with two out, and two strikes on the batter when the rains came. Almost two hours later, Patterson returned to the mound, and promptly grooved a pitch to Rob Mackowiak who hit another tape measure homer against Patterson. Patterson gave up two runs in 5 innings and saw his ERA go up just a tinch, to 3.17.
Nationals "Ups & Downs": Junior Spivey, UP. Spivey has raised his average from .236 to .248 since he joined the Nationals, and is providing a reliable bat in the #2 hole in the lineup. He now has a 10 game hit streak. News that Vidro's return has been pushed back to the original target date of the all-star game isn't as scary with Junior jiving around second base. Brad Wilkerson, DOWN. Wilkerson went 0-2 and saw his average drop below .270 for the first time this year, to .269. Don't expect it to be much higher than that by season's end. Cristian Guzman, UP. After going 0-17 after going 6-18, Guzman got two hits tonight and looked like a professional baseball player.
Nats Notes: Another win today and the Nationals will have posted a 20-6 record in the month of June, the White Sox are 1.5 games behind Washington for best record for the month ... June's winning percentage is the highest of any month in the Expos/Nationals 37 year history ... Wednesday night's win guaranteed a 9th straight series win at RFK ... Chad Cordero has now converted 24 saves in a row ... The Nats are a season high 15 games over .500, and haven't been 16 games ove .500 since mid 1994 ... 29 of the Nationals 46 wins are the "come from behind" variety ... The Nationals are 26-14 since aquiring Marlon Byrd and 12-5 since trading for Junior Spivey.