Nationals Downright Presidential In 3-0 Win Over Blue Jays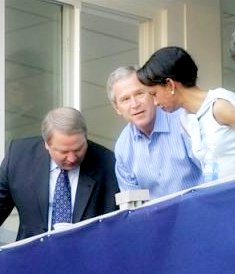 [June 24th] There are literally thousands of reasons why baseball in Washington is so very special. One of them is seeing whose at the game. On a warm summer evening, Robert Francis Kennedy Memorial Stadium was full of both postal workers and Presidents. George W. Bush, former owner of the one-time Washington Senators and current Texas Rangers, came to watch the game with Secretary of State Condy Rice, both guests of team President Tony Taveras. They enjoyed what they saw.
Behind six shutout innings from Esteban Loiaza, the Nationals continued their dominance in their home park, winning 3-0 and pushing their home record to a league best 25-9. The Nationals are now 43-30, 13 games over .500 for the first time this season. The Blue Jays fall to 37-37. They are now 4 games ahead of the new 2nd place team in the NL East, the Atlanta Braves, who beat the Orioles Friday night at Turner Field. Loiaza wasn't just the pitching star of the game.
Vinny Castilla and Junior Spivey opened the second inning with singles. Brian Schneider lined out and Cristian Guzman flied out to deep left-center field. With Esteban Loiaza coming to the plate, it looked like a wasted opportunity. Wrong. Loiaza pulled a curveball down the left field, driving in his first runs since 1998. Brad Wilkerson lofted a deep homerun over the rightfield fence to complete the scoring at 3-0.
With the news that Jose Vidro "tweaked" his knee while practicing in Pittsburgh Wednesday, Junior Spivey becomes an even more important part of the Nationals offense, and he is continuing his offensive rebound, going 2-4 and raising his average to .242. On the down side, Cristian Guzman is now 3 games removed from his last hit, and seems to again be uncomfortable at the plate. Nick Johnson got a hit, but hasn't really done any damage in more than a week.

It was so nice to see Esteban Loiaza pitch well and [finally] get a win. He is now 3-5, lowering his ERA to 3.63. The bullpen of Majewksi-Ayala-Cordero closed out the Blue Jays, allowing a combined 2 hits in 3 innings. Chad Cordero ho-hummed the Blue Jays in the 9th, saving his league leading 24th of the season. Cordero's ERA dipped below 1.00 to a teeny, tiny 0.97. Who woulda thunkd it.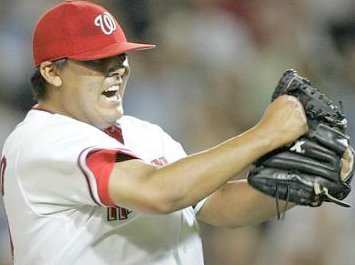 Tomorrow, the Blue Jays Ted Lilly goes against Mr. National, Livan Hernandez. Lilly is 5-7 with an embarrassing 6.08 ERA, while Livan is 10-2 with a 3.34 ERA. I know, I know. Games aren't played on paper, which is good for the Blue Jays, because on paper, things look bleak for Toronto tomorrow night.
Ryan Church will miss the rest of the series due to an injury to his shoulder when he bounced into the wall while catching the last out of Wednesday's game against the Pirates. He is expected to play against the Pirates when they come to town next week.