Nationals Making Winning Almost Ho-Hum, Beat Blue Jays 5-2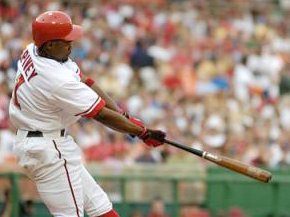 It was all over the moment Livan Hernandez took to the mound Saturday night against the Blue Jays. Livan simply doesn't lose anymore, and with just a little bit of help from his "friends," he proved that you can be a big winner in the major leagues using guile rather than "stuff."
The Nationals have created a formula for winning: Strong pitching, timely hitting and outstanding defense. Throw in a "tinch" of teamwork, and *presto,* wins just flow off the assembly line.
The Nationals have been doing a much better job of plating runs in the first inning. A Brad Wilkerson walk and a Junior Spivey double put runners on 2nd and 3rd. Nick Johnson and Marlon Byrd singled, giving the Nats a 2-0 lead. A Marlon Byrd groundout in the 3rd and a Vinny Castilla single plated another run to give the Nationals a 4-0 lead. Greg Zaun tried to throw out a stealing Marlon Byrd at 2nd, but his throw scooted into centerfield, allowing Nick Johnson to score from 3rd. From that point, the Nats were on auto-pilot.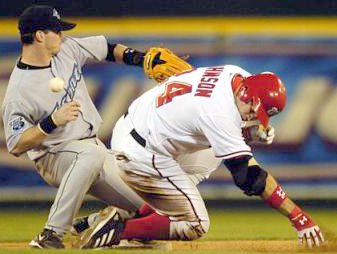 Hernandez pitched 7 innings, allowing 2 runs and 7 hits. As usual, he gave the Blue Jays many chances to score, and as usual, he thwarted them almost every time. Toronto chased him in the 8th when they got their 2 runs with a Greg Zaun single and an Alex Rios groundout. Luis Ayala slowed the threat and Chad Cordero came in the 8th and shut the Blue Jays down. He pitched a 1-2-3 9th to mark his 25th save, lowering his ERA to 0.94.
Marlon Byrd made another outstanding catch in the outfield, duplicating the one he made to end the game Friday night. He also threw out Greg Zaun at second base, ending a Blue Jay threat. Livan provided the pitching. Marlon Byrd provided the offense and defense [with a little help from his friends] and the entire team chipped in to secure yet another win for the Nationals.
I can't tell you how the Nats keep doing this. They're not dazzling anybody. They're playing just a little better than the opposition, but they're doing it each and every night they play. Across the baseball world, really smart people keep saying, "They look good now, but sooner or later they're going to come back to Earth." They've been saying that since the beginning of May.
The Nats go for a sweep tomorrow afternoon.