Waiting For The Other Shoe To Drop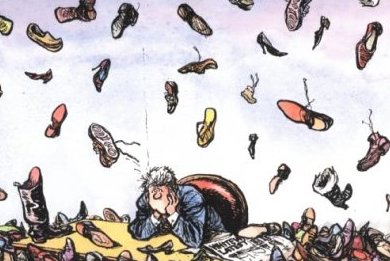 Chad Cordero threw a low fast ball to Pirates catcher Ryan Doumit who lofted a high fly ball to Jose Guillen near the foul line in right field. Catch made. Game Over. As the players gathered on the infield grass to begin their congratulatory hand-slaps, I glanced at the NL East standings. The Nationals, the team that every reputable sports magazine had in the cellar, was now perched high atop the division with a 47-31 record, a full four games in front of the still surging Atlanta Braves. They have the 3rd best record in baseball, and just swept the Pirates with two of their best players, Ryan Church & Nick Johnson, unable to play due to injuries.

The Nationals have two all-star caliber players, Chad Cordero and Livan Hernandez. The rest of the team are various levels of "good."
And I'm depressed as heck. Why? I'm waiting for the other shoe to drop.
If the Nationals were in fourth place right now, 37-41 or so, we'd be blogging our little hearts out, saying how great the team was doing, pointing to the young talent on the team and predicting that with another bat and a pitcher or two [provided by the new owners check book], the team could actually compete for a wildcard spot in 2006. The team could finish 79-83 and we'd all be out celebrating at our favorite night-spot.
How can we do that now? When you have the 3rd best record out of 32 teams, there is only one way to go, and that is down. Sooner or later, a team that gives up more runs than it scores has to begin to lose some games. At some point, all the injuries will take their toll, and the Nationals will hit a tailspin that they won't recover from. Cordero can't keep doing what he's doing. Man, there are so many chances to fail.
I'm just waiting for that other shoe to drop. I mean, it has to happen sooner or later, doesn't it? Finally, the talking heads on ESPN, the folks at Sporting News radio, the sports geeks at Fox are all finally saying, "Hey, the Nationals are for real. They will be in this thing until the very end." I don't care about them, though. I listen to the guys on the XM morning show, Buck Martinez and Larry Bowa. Both of them say that the Nats are a cont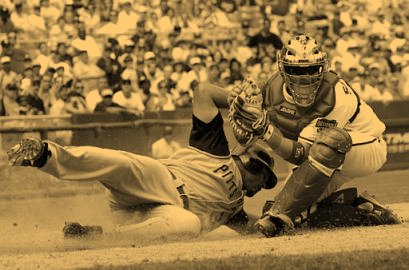 ender. I don't know, I just don't. I'm ready for the team to implode, but until they do, I'm going to enjoy every freaking second of this most amazing summer.
Now, on to the game.
The Nats won this afternoon 7-5, sweeping the series from the Pirates and finishing this short homestand 5-1. This was not the prototypical Nats game. Washington started off quickly, took a large lead, hit two homers, and did all this for Esteban Loiaza, the pitcher with the lowest run support of any starter in either league. The Pirates came back, though, and made those last few innings very uneasy for Nats fans. Chad Cordero, the "Chief," came in and quickly found himself with runners on 2nd and 3rd with no one out. However, as he is want to do, he got those last three outs under trying circumstances without allowing a run to score, earning his 28th save and lowering his ERA to 0.87.
The Nationals mustered only 8 hits against the Pirates, but two of them were home runs. I have to apologize to Brian Schneider. I expected so much from him based on his numbers from last year. I thought a .265-13-60 kind of season was not impossible. But last month, Schneider was hitting .210 with no power numbers to speak of. Now, he's on track to hit .261-13-50. Frank Robinson warned me, but I didn't listen: "Brian Schneider is the streakiest hitter on the team. He'll go 'oh-for-May' but then come back and carry the team for a month. That's exactly what is happening. Vinny Castilla, who has been just a little less than dead the last month, went 2-4 with a home run and 3 RBI's, raising his average back up to .260.
Nats Notes: Junior Spivey's 10 game hitting streak came to an end this afternoon ... Cristian Guzman hurt himself running to first and was taken out of the game [no word as to his condition] ... Ryan Church's shoulders haven't gotten any better and was today placed on the disabled list ... Wil Cordero got his second hit of the year and raised his average to .057.