"Welcome Back, Your Dreams Were Your Ticket Out." -- Guillen Returns To Where It All Began, Pops 2 Homers In 7-4 Win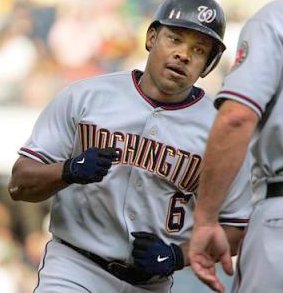 The Washington Nationals put a serious thumping on the Pittsburgh Pirates Monday night at PNC Park. Well, to be more precise, former Pirate Jose Guillen put a thumping on his former team. Oh sure, it was a team effort, but Guillen hit two home runs for the second time this season as the Nationals beat the Pirates and their top starter Mark Redmond, 7-4. Chad Cordero saved his league leading 22nd save.
Redmond, who had a 2.80 ERA beginning the game, gave up 6 runs and 10 hits in 7 innings. His ERA is now 3.14. Livan on the other hand pitched a typical Livan game. Lots of hits and walks, lots of double plays, ultimately ending in a win. Only 2 of his runs were earned, and for the 5th consecutive game, Livan's ERA dropped. It now stands at 3.38.
Junior Spivey is beginning to hit for his new team, garnering two hits and raising his batting average to .229. Cristian Guzman also continues to improve with the bat, getting a triple and a single. He now is hitting .212, a good number considering he was at .170 just a few weeks ago.
I listened to the Pirates feed, and they indicated that Brian Schneider was the one hitter that destroyed Pittsburgh pitching. He was 14 for 32 going into tonight's game, and went 3-4, raising his average to .260, perfect for a defensive catcher. Marlon Byrd went hitless and saw his average drop below .300 for the first time this season. The Nationals got 12 hits, getting more than 10 hits the last two games in a row. Been a while since they've done that.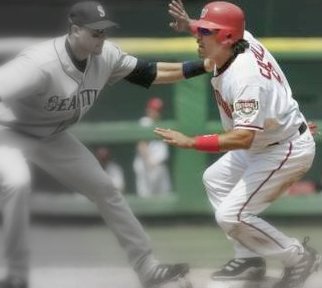 Let's talk about Vinny Castilla for a second. I was worried that once the weather got warm, and once his 37 year old legs began to tire, that the Nationals' 3rd baseman might see a significant drop in production during the second half of the season. I'm afraid it has begun early. Already in a 17-77 slump, Vinny went 0-4 and is now hitting only .258, simply unacceptable for a power position on a team with little power as it is. What can we do? Maybe Jose Vidro can play 3rd when he comes back, leaving Junior Spivey at 2nd. Or perhaps Brendan Harris, who already has proven he can hit major league pitching, might be recalled from AAA New Orleans.
The Nationals are now 41-29, and are a full 3 games ahead of 2nd place Philadelphia. The team continues to play well, and they continue to draw well when at home. How well? The Washington Nationals have had more crowds of more than 28,000 this year than the expansion Senators had during their entire 10 year run in the 1960s and early 1970s. The Pirates' announcers said that the Nationals are drawing "well" considering they play in a "dilapidated" park. Sigh. I wish all these journalists and announcers would visit RFK before making light of it.
The magic continues.