The Bleeding Stops As Livan Comes Through Again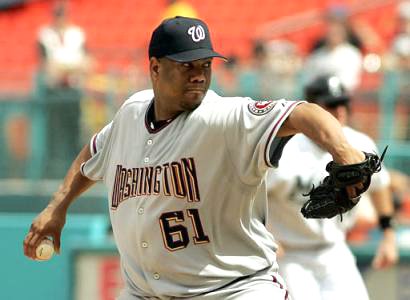 [July 31st] - Well, at least the Nationals ended the month of July on a high note.
Livan Hernandez threw 145 pitches before yielding in the 9th inning to the Chief, as the Nats won for the first time in 7 games, 4-2.
One game doesn't mean anything, but my, it was nice to win again. Nick Johnson hit his 9th home run and Cristian Guzman is beginning to show some signs of life at the plate [finally].
August will be the pivotal month in the Nationals first season in Washington. A good showing will erase their poor performance in July, when the team went from 5.5 games up to 4 games behind in the matter of 3 weeks. We can't expect the Nats to play like they did earlier in the season, as key players are either hobbled [Vinny Castilla] or playing poorly [Cristian Guzman] or in the minor leagues [Marlon Byrd]. If the Nats can play August and September 5 games over .500 each, the team will end the season with a record of 90-72, perhaps in contention for the wild card spot, perhaps not. Either way, a 90 win season following last year's 67 wins would be quite an accomplishment.
Let's see if they can do it.