Fallen On Hard Times ...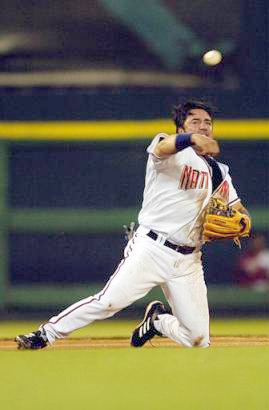 [July 18th] - I had a chance to watch the game on TV tonight. My part of Idaho gets the Colorado Rockies games on Fox. When the announcer said that the Rockies had won only 7 games on the road all year, I got worried. When Preston Wilson ran down a long fly and then tripped before catching it I got uneasy. And when Vinny Castilla let a ball go under his glove in the 9th inning for his second error of the night, I knew the bad times were going to continue at least one more day.
This was the worst game I have seen the Nats play this year. They seemed tentative, unsure, at times even unable. Christian Guzman was fielding worse than he was bunting, and his bunting was pretty lousy. I can't say if this is simply the correction that we all know had to come, or if something else is happening that we're not aware of. We got our injured players back, and trader Jim went out and got us the power bat we needed. Yet, they seem to be playing worse.
The good news is that Tony Armas is healthy. He was a casualty of the humidity and heat that has taken all of us down at one time or another. The bad news is Nick Johnson is still out and we need him soooo bad. Brad Wilkerson tries, he really does, but he's just not as good at first as Johnson.
This is not a time to panic or point fingers. Just as that 12 game winning streak was an anomaly, so too is this streak. They will likely end up canceling each other out. How the Nats finish the season depends on how they play the rest of their games, when we disregard the really, really good times, and the really, really bad ones.
What I don't understand, and maybe someone can help me out, is why this team is so bad offensively. With the exception of Guzman, all the players we have right now are good, proven professionals. Yet, all they seem to be doing is popping up and striking out. Maybe it's just a "phase." Maybe it's Bob Short's ghost coming back to haunt us. Whatever it is, I just hope it goes away soon. People are starting to laugh.