Favorite All-Star Memory: HONDO WHACKS LONG ONE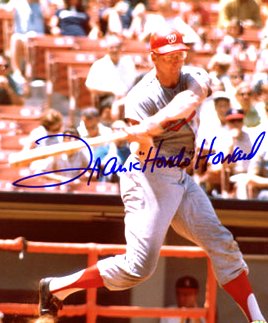 [July 12th] - By the time the Major League All-Star game came around, there wasn't much to cheer about when it came to the Washington Senators. Their record was about 32-50, buried in last place, and most of Washington was looking north to Carlisle, Pennsylvania, waiting for the beginning of the Redskins training camp. But each of the last four years the Senators were in D.C., we at least had something to look forward to: Frank Howard was an All-Star.
He didn't do much in 1968, his first year as an All-Star. Of course, no one did. The National League won the game 1-0 when they scored on a double-play with the bases loaded. The game was played in the expansive Astrodome, and it was the year of the "pitcher." I'd say that 1-0 was a high scoring game. 1970 & 1971 weren't much better for Hondo. He started, got a few at bats but didn't do anything except make Senators' fans proud that we had someone on the all-star team [of course, everyone did, but that didn't matter].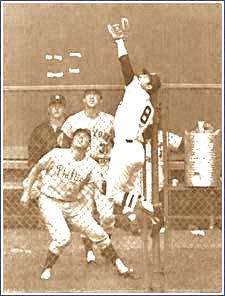 It was 1969 that was the special year. 1969 was baseball's 100th anniversary, and the all-star game was played in RFK Stadium. 45,016 fans poured into the stadium, and then a funny thing happened. It poured. Boy did it pour. For hours, Major League Baseball hoped that the skies would clear, but once they showed the river flowing down the steps from the field and into the dugouts, it became clear that the game would have to be cancelled. The game was played the next afternoon. Frank Howard batted 5th, and was given an ovation so huge that the big guy got misty for a few moments during introductions. The National League won the game 9-3. Willie McCovey hit a couple of homers, Johnny Bench hit one too, and Carl Yaztremski made a great catch in the outfield. Frank Howard got one at bat, and launched a long homer off the back wall against Cardinal lefty Steve Carlton. The stadium erupted for five minutes. To makes things a little more special, for the first time in recent memory, the Senators had two players on the team, as ace reliever Darold Knowles joined the squad, pitching 2/3 of an inning, giving up no hits.
Frank Howard made this 13 year old very happy that day. I didn't care a lick that the American League lost. Frank Howard hit a home run and life was good.