I'm At A Loss ....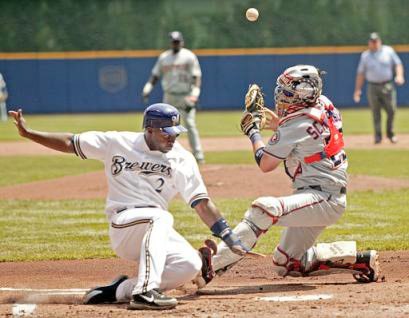 [July 17th] - Ok, by tomorrow morning, the Nats blogs will likely be buzzing with prickly prose and damning profanity as loyal fans begin to seethe at Washington's poor play. "If they keep this up," they might begin, "any hope for the post season will be lost."
Hold that thought.
At the beginning of the season, most Nats bloggers, most Nats fans, most anyone with more than just a passing interest in the Nationals looked at their schedule, then their roster, then their payroll and said, "Hmmm, they'll win 75 wins just because they don't have to play in Montreal and Puerto Rico anymore, and 85 wins if they play at their best." Think about it. A team with a $47 million payroll winning 85 games. I mean, what's the chance, right? As things stand today, Washington will have to go 22-48 to win 75 games, and 32-38 to win 85 games. I'll take those odds, and I'll take the 85 wins.
Buster Olney and Peter Gammons be damned, this is not a team capable of staying in the hunt for the divisional crown come September. It's a good team, no doubt, but not a great team. And we shouldn't judge how they play the second half of the season based on that assumption. We can't count on Nick Johnson, Brad Wilkerson is not playing up to potential, Vinny isn't producing at a level required of a 3rd baseman, and Cristian Guzman keeps getting worse. There are parts missing, but help is on the way. By next spring, a new owner will likely increase the payroll from $47 million to around $80 million. That'll buy the Nats 4 quality players, be it position players or pitchers. So if this team can win 85 games with $47 million, what can they do with $80 million? They have 3 or 4 players in the minor league system that will be able to play at the major league level by 2007, and how much more will the owner add to the payroll when the team is ready to take its place in the new waterfront stadium?
I'm not writing off this season, only being realistic. I thought Brad Wilkerson would be able to hit 25 homers and strike out only 100 times. I was wrong. I thought Guzman would bat .250 and play stellar defense. I was wrong about that too. I believed that this was the year that Nick Johnson could play an entire season. That didn't happen.
The Nats could get hot again and win 12 out of 15, but it's going to be difficult. So let's set our goal at .500, and be happy when they reach their 81st win sometime in mid September. We'll then cheer each additional win until the end of the season. They don't need to have the pressure of trying to be a pennant winner right now. If they make it to the post season, then well and fine. But they have earned the right to just play as well as they can, and good things will happen more often than the bad if they are allowed to do that.
Let's give them a break.
Comments:
"If they keep this us," they might begin, "any hope for the post season will be lost."
Well, of course. When a team plays a 100-win pace for half-a-season, the goal posts do tend to shift a bit.
I predicted 75 wins. I didn't do so because of the "new home theory" per se, and I didn't really think the off-season acquisitions helped the team a tremendous amount. I just thought that the team was not 95-loss bad in 2004, and 75 wins seemed reasonable. A winning season sounded like a nice goal.
The much-thrashed run differential stat says the team isn't much better than that (or shouldn't be counted on being much better than that going forward, at least) and, all things equal, I'd love for the Nats to be a big anomoly in that regard.
All of this is to say that it's really easy to get caught up in the moment and say woe-is-me (or woe-are-they) right now, and that's not good; then again, I will be genuinely disappointed if they don't make it to 85 wins, because, say, a 34-47 second half would leave a bad taste.
Thankfully, we "banked" some serious wins in the first half and have a nice cushion. We shouldn't get carried away; however, we shouldn't lose sight that we ARE actually 5-6 games on the plus side of a playoff spot right now.
Paul and Basil - thanks for taking the time to post on my blog.
I'm not giving up, but I am being realistic. We, especially in a politically charged city like Washington, should more than other fans deal with reality and not hope. After all, how many supporters of Ralph Nader the past two elections really thought he was going to win, only to have their hopes dashed on election day.
I want this team to win very badly. As I've mentioned before my baseball pedigree dates back to the 1964 Senators, and I [barely] remember the trade that brought Frank Howard to Washington. Sure, if Guzman and Wilkerson and Castilla hit like they should, and if the pitching stays hot, anything can happen. But we kept saying, "just wait until the injured come back." Well, Joey Eischen, Jose Vidro, Cristian Guzman and Ryan Church are all playing, and we're losing more games now then before they returned.
Hope for the best, sure. But I don't want to be "saddened" after an 85 win season because we din't come in first. That's all. But good point Basil, and thanks again Paul.
Post a Comment
Links to this post:
<< Home