It's A Long Walk home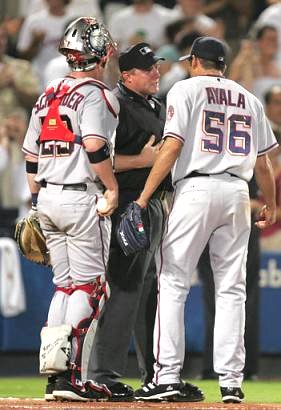 [July 27th] - There are losses, and then there are losses. This one was devastating.
As usual, Livan Hernandez pitched Brilliantly. As usual, the Nationals could only muster 2 runs during the game. Strangely, Chad Cordero blew a lead. In the past two games, both losses, the Nationals have played a total of 25 innings and have scored 3 runs. In those two games, when you don't include extra innings, the pitching staff gave up 2 runs in 18 innings.
The team is now going through a period that always seems to occur to formerly bad teams that all of a sudden become winners. They wake up one morning and find themselves 20 games over .500, and they think they are champions. They then lose a few games, say 3 out of 4, and they lose their confidence, they begin to believe that the winning streak was luck, and the long slide begins. We've all seen it many times and in many sports. Remember the Kansas City Royals just last year. They started the year under Tony Pena like they were the Yankees, but by the end of the season, they were barely a .500 team.
A loss that knocked the Nationals out of first place is bad enough. A loss to the team that took over first place makes it worse. But to lose on a hit batsman and a walk in extra innings is downright horrid. I said this series with the Braves was the turning point of the season and I meant it. I the Nationals are swept, if they don't rebound during these next two games, the mental state of the team will be such that bad things will begin to happen. How long before the pitching staff blames the offense for letting all those quality starts result in losses? How long before everyone blames Cristian Guzman? How long before Frank Robinson gets blamed? Or Jim Bowden? There' s nothing much else that the team can do in terms of trades or call-ups. There isn't anyone left in the minor league system that real trade value or that we are willing to trade, and we have no real excess at any one position that can be traded for help elsewhere. No, It's the guys on the team this morning who will finish writing the first chapter of Washington Nationals history.
That all said, I'm neither upset nor worried. In the midst of that 12 game win streak, I knew that sometime later in the season, a correction would take place. All those 1 run wins had to at some point even out. None of that concerns me. What does is the offense. Individually, outside of Guzman, everyone seems to be pulling their weight, yet collectively, that just isn't enough. I don't have the answer, except to say that .500 is what I hoped for by season's end, and .500 seems to now be a reasonable figure to expect. Certainly, the team can suddenly start another winning streak and leave the division in the dust, but unless the offense finds a way to produce runs, that will never happen.
Nats fans can't base the success or lack thereof on a quick start and slow finish. It's that final won-loss record that matters. And it'll be a good one too.