Livan Hernandez. So Who Knew?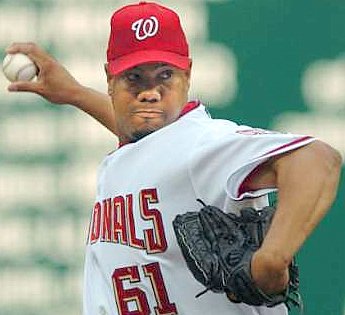 [July 6th] - About a second after the D.C. City Council finally, formally approved the building of a new baseball stadium, I began surfing the net, learning as much as I could about our new, as yet unnamed team. There were several players that intrigued me, but none of them were named Livan Hernandez.

I thought I knew a lot about him after watching him pitch against the Braves the last decade. He was 'ok' but nothing more. He didn't have a fastball. He always gave up 3-4 runs. He didn't look much like a pitcher. I was satisfied to have him on the team, but I didn't see him as anything more than a .500 pitcher.
Oops.
Livan began his major league career as a defector from the Cuban National team. He signed with the Marlins and began his career in 1997. He won 35 over 4 years before begging traded to the Giants for a minor leaguer named Jason Brilli. He won 42 games in this 3 full seasons with the Giants, yet was traded again, this time to the Expos, for Jim Brower and Matt Blank. Livan won 26 games in two years with the Expos. With the Nationals, Livan goes for his 13th win tonight, and is on
pace to win 25 games. So what's the deal here?
Hernandez averaged 10 wins per season with the Marlins, 14 with the Giants, and 13 with the Expos. Yet he has been traded twice, each time for lesser players. he is a quiet leader in the clubhouse, and never creates a problem with management over money. Yet, for some reason, he never seems wanted by the team who owns his contract.
Livan is one of those pitchers whose talents don't show up on a stats sheet. He pitches when he's sick, he pitches when he doesn't have his bet stuff, he pitches against teams who "own" him. He pitches into the 8th inning almost every outing, saving the arms of the bullpen for the other starters. His ERA is higher than Pedro and the other "stars" because he never asks to come out when he tires. He pitches and pitches and pitches. His stats aren't sexy. He gives up one hit per inning, strikes out less than one per inning, and walks as many as he needs to find the person he wants to get out. He pitches as an intellectual, and those types of pitchers never shine statistically.
So, I wasn't impressed with him. Neither were the Marlins. Or the Giants. But at the end of the game, when *Bang! Zoom* go the fireworks, Livan's team usually is the winner. The entire Nationals team is a lot like Hernandez.


No one has particularly fancy statistics, but they know how to win. The Nationals lead the league in sacrifice flys, sacrifice bunts, best percentage of ground outs to fly outs, etc. etc. etc. The Nationals' talents connect each player to the other, allowing a different player to carry the team each night.
Thank you Livan. and the rest of you guys. You've certainly touched my heart. But not with the wins, but rather the way you win.