More Of The Same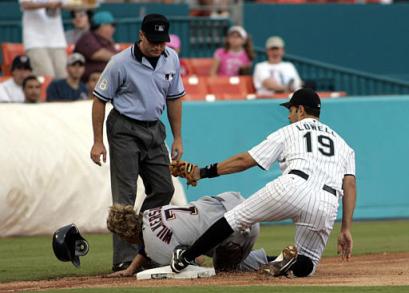 [July 31st] - The Washington Nationals have fallen, and they can't get up.
The losing streak hit six games Saturday when the Nats lost to the Marlins 3-0 Saturday. John Patterson, though a little wild, certainly pitched well enough to win, but these days, no-hitters aren't a guarantee that this team will pick up a win.
The Offense has proven that they aren't major league quality right now. Day after day, they score one run, no runs, two runs. Nationals GM Jim Bowden said yesterday that he was done trading, that the team that managed to get to 20 games over .500 with these players, and it's these players he'll take to the end of the season. The gauntlet, so to speak, has been thrown.
We are now in the flip side, the "Twilight Zone." We are experiencing the opposite of the first half of the season, when wins were coming with those same one run and two run offensive productions. The Nationals were not as good as their first half record, and they aren't as bad as they're second half record might end up being. One thing is for sure, and that is the story of the first season of the Washington Nationals will be full of ups and downs, broken bones and patched arms.
And we'll get through it just fine.