Nats Beat Pedro, Begin New Streak
Things looked a little grim going into Tuesday's game against the Mets. After losing yesterday 5-2, the Nats, still without Nick Johnson and Ryan Church, had to face Mr. Automatic, Pedro Martinez.
Grim yes, but impossible no. You see, the Nationals had a "secret weapon." Jose Vidro was back in the lineup for the first time since May 4th.
Pedro pitched well, just not well enough. He gave up 3 runs over 7 innings, good enough to pick up a win most nights. But not tonight.
Esteban Loiaza was persona non grata for most of the off season. Although he made the 2004 all-star team, he pitched poorly for the Yankees, and the other 31 major league teams believed that he no longer had the ability to get out major league hitters. Bowden, worried about a razor-thin pitching staff, signed Loiaza, and crossed his fingers. He didn't start the season particularly well, but he has been as reliable as Livan the last 8 starts.
But the biggest story was not Esteban's outstanding outing, or Pedro Martinez taking only his 3rd loss of the season.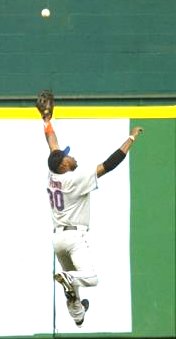 No, the big story is the return of Jose Vidro, who has been on the disabled list since hurting his ankle against the Dodgers on May 4th in Los Angeles. And it didn't take long to reap the dividends. In the 7th inning, Vidro lined a shot down the right field line for a run scoring double. The Nats won by a single run, so we can point to Jose Vidro as the hero of tonight's game.

This was such an important game for the Nationals. After losing last night, and facing Pedro Martinez tonight, the Nats could have easily woke up tomorrow morning the owners of a two game losing streak. Showing the resilience they have displayed all year, they beat one of the top pitchers in the National League. The Chief saved his 30th game of the year, and the Nats are back to 19 games over .500.
More to Come
Comments:
Not sure if you read these comments...
I've noticed a couple of times, you mention the "other 31 teams." But there are only 30 teams in the Major League, 16 in the National League and 14 in the American League. How 31?
Post a Comment
Links to this post:
<< Home