No Church, No Guzman, No Johnson, No Problem
[July 1st] - I didn't give the Nationals much of a chance to win not only Friday's game, but any of this weekend's games against the Chicago Cubs. From Derrek Lee to Aramis Ramirez, from Mark Prior to Kerry Wood, this is a team of stars and all-star talent. I really thought that the Nationals were going to get swept against the Cubs, and that the Nationals late season swoon would be traced back to this afternoon's game.
That lasted until the third batter of the game.
Jose Guillen launched a two out, 2-1 pitch into to the "batter's eye" above the ivy in deep centerfield to give the Nationals a 1-0 lead. the stunned Wrigley Field fans could only watch in silence as Guillen toured the bases.
Guillen's homerun wasn't the only good thing to happen in Chicago's "North Side" this afternoon. Cristian Guzman injured himself during the Pirates series and will sit the entire weekend series. Jamie
">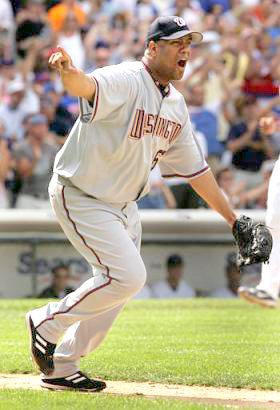 Carroll took his place and promptly went 2-4, singling home Brian Schneider in the 2nd and Marlon Byrd in the 3rd. Vinny Castilla singled home the final run for the Nationals in the 7th.
When the Cubs visited RFK Stadium earlier in the season, the Nats' pitchers kept Derek Lee's bat quiet the entire series. Not this time. Lee went 2-4 with a towering home run to right-center field. His second hit, a double, was from weirdsville, man. Hit almost to the same place as his homer but not as far, Guillen lost it in the sun and Lee ended up at 3rd base with a triple. But that is just the beginning of weirdsville. With the score 4-2 and Lee on 3rd, Jeromy Burnitz tattooed a long deep drive to right field that the 1st base umpire and the Cubs announcer called a fair ball. While the Cubs fans were dancing in the stands, and Ron Santo was still screaming "Fair, fair, fair," Frank Robinson calmly walked out of the dugout and towards the first base umpire. A few smiles and a couple of pointed fingers later, the umpires huddled and reversed the call. Although Burnitz later doubled and drove in Lee, the Nationals maintained their lead. But we're not done with weirdsville yet. With Burnitz on 3rd and one out, catch Brian Schneider took an outside pitch and rifled it to third where Vinny Castilla tagged out the unprepared Burnitz, and ended the last Cubs threat of the game.
With Chad Cordero needing some much deserved rest, Hector Carrasco took over for Hernandez in the 9th inning. Like Cordero, he made things a little difficult. He went 3-0 to first batter Mart Barrett before striking him out. He went 3-1 on second batter Roger Cedeno before striking him out. Cory Patterson grounded out to end the game. Final score: 4-3 Nationals.
Nats Notes After raising his batting average 13 points since joining the team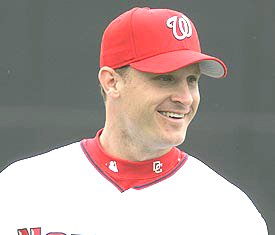 , Junior Spivey went 0-5 and is now batting .240 ... Vinny Castilla got two more hits and is now batting .262, showing signs of having worked through his "tired bat" ... ">Brian Schneider, perhaps the streakiest hitter on the team got 3 more hits and is now at .270 ... Wil Cordero got 2 more hits, giving him 3 in last 2 games ... maybe Nick Johnson's injury is a Godsend, giving Cordero the chance to finally get some at bats ... Rick Short has been recalled from AAA New Orleans to replace Ryan Church, who has gone on the disabled list