Oh, So That's What It Feels Like To Win A Game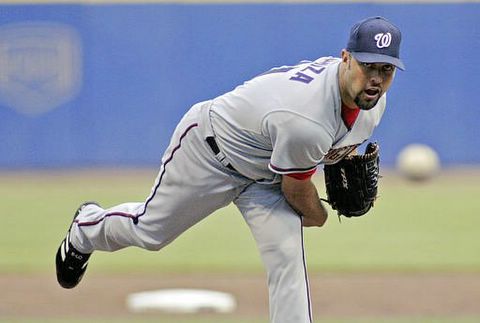 [July 15th] - I had almost forgotten what it felt like. Winning I mean. It's been almost two weeks since the team has won on a regular basis. Saturday night, in Milwaukee, Esteban Loiaza continued his excellent string of quality starts as the Nats held off the Brewers 5-3.
Offense. Man, why can't the team score a few runs. Don't get me wrong, I'm not asking for the Texas Rangers or even Blue Jays type numbers. But I would certainly settle for just the league average, something above 4.00 runs per game. John Patterson should have won the first game and got nothing for his efforts but a lowered ERA. Livan should have won the second game but got nothing but a lowered ERA. Luckily for Esteban, the Nats went "wild" and scored 5 runs for him, allowing the veteran his 6th win of the season. With the exception of Cristian Guzman, every starter is a major league hitter, capable of producing each time he comes to the plate. But for some reason, they aren't. Is it the lineup? Is it the hitting coach?
No. This is a team that is overproducing. They are winning games in spite of a barely average offense. The team pitching and defense keeps them in every game. In the three Brewers games the team has given up 8 runs, a 2.48 ERA and yet won only one game. That's going to happen now and then. But we'll take the win, and take it gladly. The Braves won as well, and remain 1.5 games behind the Nats going into Sunday's games
Vinny Castilla had two more hits last night and raised his average to .261. Perhaps the rumors f his demise was greatly exaggerated [especially by me]. Jose Guillen, silent the first two games, came through with two hits and two driven in. While Jose Vidro only had one hit, it went 423 and further affirmed that his injury is a thing of the past. Preston Wilson didn't get any hits, but he walked twice and scored two runs. I'll take that. Cristian Guzman is now ofer the second half, and is hitting .193. Herein lies a big problem for the Nationals. As things stand now, the 8th and 9th hitters are automatic outs. If the team can't get its runs in by the 7th hitter, it just isn't going to happen. Mr. Bowden, the back side of the lineup is what needs fixing next.
The Braves now have both Tim Hudson and Mike Hampton back from the DL, and Chipper Jones returns in their next series against the Giants. the Braves keep getting better and the Nats, while they have gotten better, still can't score enough runs to remain in first place. If something doesn't happen soon, if the Nats don't start scoring like a major league team, don't be surprised to find the Braves in first place by weeks end. I'm not jumping ship. I'm a pragmatist and have warned of this possibility for a month. If Jose Vidro's return spiked the offense, then we'd be OK. It didn't. If the trade for Preston Wilson made a difference, then we'd be OK. So far it hasn't. We'll just have to see.