Plea To Lee: Stay Home And Watch Dr. Phil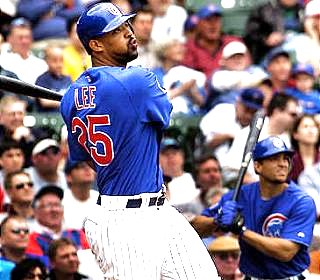 The Chicago Cubs scare the heck out of me, which is strange considering the Nationals have a 47-31 record, while the Cubs are only 40-37. So why am I concerned that the Cubs have the potential not only bet the Nats, but beat them good? Let's take a look at them.
1B]Derrek Lee: .379-23-65 ... Lee is simply the best position player in the major leagues today. The only way to stop him is to walk him, and he usually ends up scoring anyway.
2B]Todd Walker: .314-2-13 ... Walker has always been a good hitter but an average fielder.
SS]Neifi Perez: .279-7-29 ... Of course, he's not the Cubs first choice for short, that would be Nomar Garciaparra. But he's done a magnificent job both in the field and at the plate. They're not missing a beat without Garciaparra.
3B]Aramis Ramirez: .301-17-49 ... Ramirez is a top-notch 3rd baseman, and makes a perfect book end to the all-everything Derrek Lee. He'll end up with 35+ homers before he's done this season.
LF]Jason Dubois: .248-7-22 ... Finally, a hole in their lineup, but not for long. This young man has the potential to be a solid major league outfielder for years to come.
CF]Corey Patterson: .236-11-24 ... Nowhere near his talent level this year. In addition to his low average and RBI's, he's among the league leaders in strikeouts.
RF]Jeromy Burnitz: .275-13-43 ... Burnitz is a quality right fielder who gives the Cubs a 3rd strong bat in the lineup. Derrek Lee-Arimis Ramirez-Jeromy Burnitz is a potent 1-2-3 lineup.
C]Michael Barrett: .266-9-36 ... a carbon copy of the Nationals Brian Schneider
So, the Cubs offense is strong and has relatively few holes, although they do strikeout as a team a little too often. The scary part of the Cubs is their pitching staff now that it's finally healthy:
Greg Maddux: 7-5, 4.87 ... Mark Prior: 5-1, 2,66 ... Kerry Wood: 1-1, 5.29 ... Carl Zambrano: 5-4, 3.93
There isn't a "breather" among them. The Cubs have better pitching, and overall, better hitting than the Nationals, yet they are only 3 games over .500. How? The Nationals haven't learned how to lose yet, and the Cubs haven't learned how to win.
Hopefully, it won't happen this weekend.