Road Kill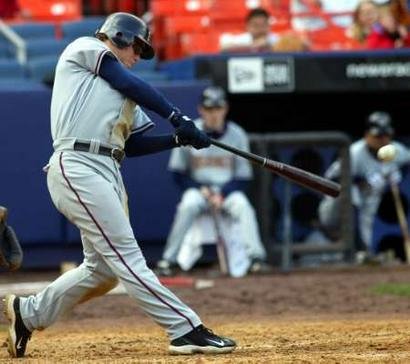 [July 28th] - Don't get mad at me, but I believe that the Washington Nationals have seen the last of first place for 2005 season. It's not because they're not winners. It's not because they're not trying. It's not because of team leadership. It's because they just aren't good enough.
Although this team's uniform is far more attractive than the one worn last year, the team itself is only a tiny bit better than the 2004 Expos. And in spite of a glaring lack of talent at many key positions, they are still going to end the season higher than most pundits thought.
So now the team is 3 games out of first. So what? This year was supposed to be [regardless of what Jim Bowden suggests] about seeing the kind of talent the team had, both at the major league level and in the farm system. More than half way through the season, we now have many of the required answers for next season:
Brian Schneider is one of the best catchers in the game. Lock him up in a long term contract.
Nick Johnson is too fragile to depend on him as an every day first baseman. Trade him to the American League, let him split time between first and DH
Jose Vidro might not be player he was two years ago, but he's still great. Keep him.
Christian Guzman isn't a major league baseball player anymore, but the closest talent in the minor leagues is 3-4 years away.
Vinny Castilla is done. Ryan Zimmerman is doing well at AA -- if he does well in a possible August promotion to New Orleans, then he needs to learn on the job next year in D.C.
Brad Wilkerson strikes out too much and is too inconsistent. I'd rather have a fleet footed lead off hitter instead.
Preston Wilson will be long gone come October 1st.
Although Jose Guillen is only a step or two away from super-stardom, he's too volatile. At a close play at 3rd against the Braves Thursday, he went "spikes up" and tried to hurt Chipper Jones. He immediately jumped up and apologized, but it was obvious; he aimed at Chipper's bad foot.
Livan Hernandez and John Patterson are #1 starters. I'd sign Esteban, cut loose Drese and we'll probably lose Armas to free agency anyway. Cordero is a stud, but his penchant for baserunners might catch up with him one of these years.
My guess is that the new owner will pump $30 million into the team's payroll. That translates into 2-4 quality starting players. Boom. Just like that, 2006 will bring a REAL pennant contender.
No worries mate.