Speechless
I don't exactly know where to begin.
Earlier in the day, I said that today's game was a "turning point" for the Nationals, that if Ryan Drese could pitch effectively for the third time in four games, the Nats could boast five quality starters in their rotation. The turning point went Washington's way, as Drese pitched seven scoreless innings, scattering four hits and walking no one. In his one poor outing, Drese gave up 5 runs in 3 innings. In his 3 superb starts, he gave up no runs over 22 innings. I think this pretty much proves it: The Rangers waiving Drese ranks right up there with trading Jorge Bell for Sammy Sosa. Now, every game is winable for the Nats. Every time that Drese pitches a gem, I always wonder how Mr. Ohka is doing in Milwaukee. Well, he's 1-1 with a 4.86 ERA since the trade -- very so so.
Now, on to Chad Cordero. Look, we all knew that sooner or later, he was going to blow one, and secretly, I'd guess that manager Frank Robinson was hoping he'd get it over with. So Cordero blew the save, but the Nationals still won the game. Talk about a win-win situation. I'm sure the pressure was building each time he took the mound, "Don't blow the streak" must have gone through his mind.
The Nationals showed me so very much this afternoon. This game was unimportant. The team was 18 games over .500 and well ahead of the second place Braves. Once Cordero blew the save, they could have relaxed and lost the game. They didn't.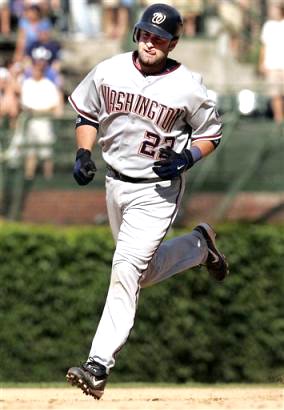 They came back and scored two runs in the 11th to take a 4-2 lead, but the Cubs came right back and tied the game gain. Back came the Nats, and Brian Schneider's long home run in the 12th was finally enough to secure the win. It doesn't matter to this team that they're one game over .500 or one hundred games over; they play to win and they play to win every day. The Nats swept the Cubs without their starting first baseman, 2nd baseman, shortstop and left fielder. Sunday, they were without their back-up first baseman. It doesn't matter. Their third-string first baseman went 2-6 and made two great plays in the field. They keep on winning.
Junior Spivey hasn't had a great weekend in Chicago. He's ofer the windy city, and has struck out 9 times, lowering his average from .248 down to .232. Spivey is now 3rd in the league is strikeouts; Brad Wilkerson is 2nd. Marlon Byrd has had a tough series as well, going o-6 and seeing his batting average drop to .266. Byrd seems to play best when he plays least, coming off the bench as a pinch hitter or taking Ryan Church's place when the team faces a nasty left hander. Jamie Carroll's batting average is dropping again now that he's playing everyday. His .262 average has dropped to .242 thanks to an 0-6 Sunday. On the positive side, Brian Schneider continues his hot hitting. He hit his 6th homer and is now batting .271, offensive icing on a defensive cake.
The Nationals finished the first half of the season with a 50-31 record, half way to a hundred win season. They've done this with a tiny payroll and a huge disabled list. Many say that the team will get better when the team gets healthy, but I'm not so sure about that. They are winning as a team, and it doesn't matter if Nick Johnson or Wil Cordero or Carlos Baerga is at first. The team manufactures its runs, and seems to be able to do it with most anyone they have.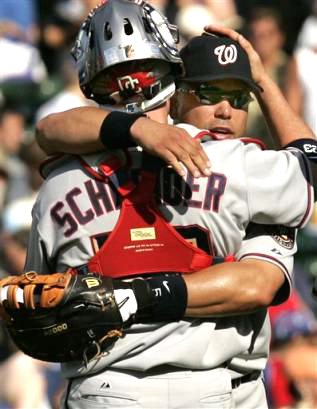 As long as the pitching remains solid, as long as the defense remains sharp, the team will continue to win. Will they win 100? No. But in order to win 90 games, they'll have to go 40-41 the rest of the way. Is that likely? No. Look for 94-96 wins and a [dare I say it] a division championship.
The 1969 Mets were "Amazin." The 2005 Nationals are unbelievable.

Comments:
Whew! But that game was exhausting and scary. I think the last thing a team riddled with injuries and ailing players needed was a long long game. Now I got to worry about this Mets series. I know we're at home, but the only players who aren't tired right now are Gary Majewski and Gary Bennett. Our bullpen is wiped out and there's no depth in the infield or the outfield for anyone to get a break.
The big comfort, though? There's nothing - nothing - we can do to give up first place before the Mets leave town. Now that's the good life.
Post a Comment
Links to this post:
<< Home