Tag, We Win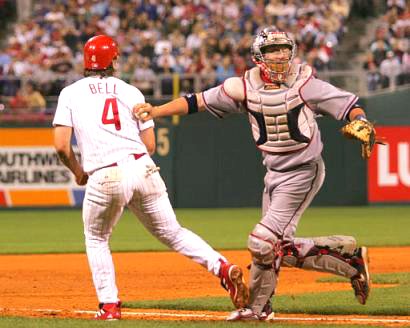 You would think that, after losing 3 out of 4 games to the Mets, any win would look good.
But this one didn't.
Even ahead 5-0 in the 5th, with Ryan Drese having given up but one hit, things felt a little "iffy." Maybe it was those five walks Drese gave up. Maybe it was because as the game progressed, Drese kept missing, but kept missing high, which is his death knell. Just ask the Rangers. Very quickly, it was 5-3 and the Nationals seem headed for "that" loss that would spin a superb season into one that "almost was."
Carlos Baerga seemed unwilling to allow the Phillies back in the game, and punched an Aaron Fultz fastball juuuuust into the left field stand for a 3 run home run. He got the opportunity because the Phillies intentionally walked Jose Guillen to make sure he wouldn't hit a 2 run homer. Well, it worked I guess. But the Phillies weren't done. They came back one more time in the 7th inning. With the score 8-6, and two runners on, rookie Ryan Howard launched a ball that missed leaving the park by just a couple of feet. Instead, it bounced to Brad Wilkerson, who fired the ball to Jamie Carroll, who threw a strike home to cut down Pat Burrell at the plate to end the inning. In the 9th, Chad Cordero got the Phillies 1-2-3 and the Nats came away with a shaky 8-7 victory. I say 1-2-3 but really it was OH MY GOSH!-2-3, as Ryan Howard was only inches away from tying the game with a homer to center field. Even Frank Robinson thought the ball was gone.
What lessons were learned from the Friday night's game? The back end of the bullpen is still tired, as Luis Ayala and Joey Eichen gave up 3 runs in a combined one inning of work. When Ryan Drese has his sinker working, he's our best pitcher. When it's not, the Nats need to score lots of runs for him to win. Drese is 3-1 for the Nationals, and will likely end the season with 15 or so wins. Not a bad waiver wire pickup, huh? Vinny Castilla is spriraling downward again; his batting average is .255 and falling. For a team missing 3 of their starters, they're still doing some pretty amazing things.
NATS NOTES: There is still talk of a Preston Wilson to the Nationals trade. Phillies broadcasters said this evening that the Nats have offered Zach Day and J.J. Davis for the Rockies outfielder. Boy, I'm not a big Preston Wilson fan but I'd do that deal in a second ... Matt Cepicky got two more hits tonight and drove in 3 runs ... Ryan Church and Nick Johnson are both ready to begin rehab assignments this weekend. Hopefully, It'll be awhile before Guzman is ready to come back ... In the battle between traded outfielders, Marlon Byrd had a double and Endy Chavez a triple.
Comments:
I had to stop watching for periods of this game when I just couldn't look. Like the kid watching a scary movie, peeking through his fingers. Painful stuff.
At least - at least - the Nats have now guaranteed themselves that they will lead the division at the All Star break. That's what that game bought us.
Post a Comment
Links to this post:
<< Home