Time To Pummel The Peachtree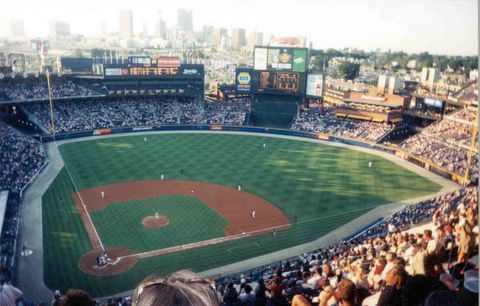 [July 26th] - It's for real now. The Washington Nationals limp into Turner Field to begin a series with the Braves that could reignite, or destroy their hopes for the rest of the season.
In Tuesday's game, is ace vs. ace, as 11 game winner John Smoltz goes against 12 game winner Livan Hernandez. Luckily for the Nats, after the hot streak that brought the Braves from 5.5 games back on July 4 to a statistical tie for first with the Nats less than two weeks later, the Braves have slowed down a bit as well. The Nationals could just as easily go into tonight's game 2 games behind the Braves as tied.
The good news is that Nick Johnson is expected to play; the bad news is that Jose Guillen may miss the rest of the series with that continuing sore wrist/hand. Vinny should also be back at third.
I have no idea what is going to happen. The Nats could suddenly find a way to win the close game again and leave Atlanta with a 3 game lead. Just as likely, however, is the Braves gaining that 3 game edge when the series ends on Thursday. The thing to remember is that the goal for this Nationals team was to finish somewhere between 81-85 wins, and they will do that without question. They are on pace to do what they set out to do. The Braves are the ones who are playing "behind expectations." Will they be able to surpass the Nationals? Very possible. But don't look for anyone else in the division to make a break; they just don't have the talent.
Smoltz vs. Hernandez. Couldn't be better than that.

Comments:
The Atlanta game is one tonight, and I can't watch it.
And we all know who's fault that is: Comcast, Cox and Angelos.
But finally there's a grassroots group that's going to stick it to Comcast, Cox and Angelos.
But to be successful, they need our help.
Check out www.IwantMyNatsTV.com and make sure to sign up.
If enough people sign up, it will send a powerful message to Comcast, Cox and Angelos, and we might finally get ALL of the Nats on television.
We've got to put some pressure on. And the only way to apply pressure is to speak out. And the best way to speak out is through www.IwantMyNatsTV.com.
(And just to prove that the group is legitimate, look for their ad in the July 29 edition of Roll Call or the August 5 edition of the City Paper. More ads will follow.
Seriously. Take a minute. Visit www.IwantMyNatsTV.com and sign up now!
Post a Comment
Links to this post:
<< Home