Turning Point In Nats Season Today At Wrigley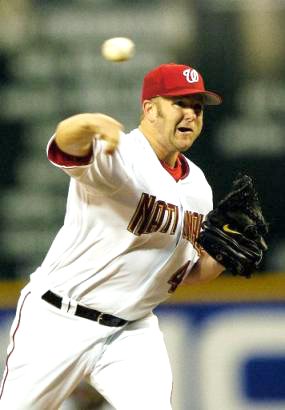 I know, I know. The Nationals are a season high 18 games above .500, have already won the series against the Cubs, and are 5.5 games in front of the second place Braves. So why is today a "turning point" for the Nationals? Easy.
Ryan Drese.
Jim Bowden took a chance when he traded a very grumpy but equally serviceable Tomo Ohka to the Brewers for 2nd baseman Junior Spivey. Bowden Claimed Drese off waivers to replace the departed Ohka in the rotation. In his first game, Drese pitched 8 innings, holding the Angels to a pair of singles. Then he met the Pirates. Mr. Drese, meet the Pirates. Pirates, meet Mr. Drese. The former Texas Ranger gave up 5 runs in 3 innings and learned first hand about manager Frank Robinson's "quick hook." Drese was given an opportunity for redemption, however, as he pitched against the Pirates when the two teams moved to RFK Stadium. Redemption sought, redemption received. Drese pitched 8 innings, giving up 5 hits and a run, lowering his Nats ERA to 2.84.
OK, so here's where the "turning point" comes in. If Drese pitches well this afternoon, if he builds on his last outing against the Pirates, if he has another quality start, it would give him 3 good starts out of 4, and the Nats can then count on him as a quality 5th starter. Livan, Loaiza, Patterson and Armas are all proven pitchers.

With a good ou
ting today, we can add Drese to that list and Washington can head into September with the "petal to the metal" and "balls to the wall" [that doesn't mean what you think it means]. No opposing team could catch the Nats in a series without facing our good pitchers, because they are all good.
I'd rather see the Nationals lose 2-1 today instead of winning 9-8. When you're 18 games over .500, and almost 6 games ahead of the 2nd place team, a win is not as important as a statement. And Ryan Drese giving up only a run or two would be quite a statement.

NATS NOTES: ... A win today would give the Nats 50 wins, the earliest the Expos/Nationals, or any D.C. baseball team would have reached that mark ... the '94 Expos won their 50th on July 6th, and the '24 Senators won their 50th on July

5th ... the Nationals home winning percent of .744 is tops in the major leagues; the White Sox are 2nd at .692 ... Since June 24th, the Nats starting pitchers have a solid 3.31 ERA while the bullpen has fashioned an outstanding 1.96 ERA ... Zach Day, trade bait extrodinaire, gave up one run in three innings pitching for Harrisburg last night ... Jose Vidro went 0-1 with two walks for Potomac ... the Nats have batted only .205 with runners in scoring position during that last 15 games [11-4] -- gee, maybe all this is just luck after all :) ... Jose Guillen now has more home runs than all of the Expos right fielders did for 2004 ... Marlon Byrd is the Nats MVP ... the team was 19-17 before he joined the club and 30-14 since his arrival.